Contextos universitarios transformadores: a nova normalidade académica. Leccións aprendidas e retos de futuro. V Xornadas de Innovación Docente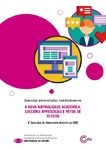 View/Open

Except where otherwise noted, this item's license is described as Atribución-Non comercial-Compartir igual 4.0 Internacional (CC BY-NC-SA 4.0)
Collections
Title
Contextos universitarios transformadores: a nova normalidade académica. Leccións aprendidas e retos de futuro. V Xornadas de Innovación Docente
Author(s)
Date
2021
Citation
García Naya, J.A. (ed.) (2021). Contextos universitarios transformadores: a nova normalidade académica. Leccións aprendidas e retos de futuro. V Xornadas de Innovación Docente. Cufie. Universidade da Coruña. A Coruña. DOI: https://doi.org/10.17979/spudc.9788497498180
Keywords
Desing thinking
Evaluación
COVID-19
STEAM
Aprendizaje basado en proyectos
Universidad Sénior
Docencia online
Competencias digitales
Aprendizaje-servicio
TIC
Aprendizaje colaborativo
Analítica de aprendizaje
Moodle
Innovación docente
Laboratorio virtual
Docencia telemática
Sostenibilidad
Comunicación corporativa
Comunicación audiovisual
Aprendizaje virtual
Píldoras formativas
Educación Superior
Docencia telemática
Metodologías activas
Aula invertida
Pandemia
Description
Colección: Contextos Universitarios Transformadores (CUT). Número 6
Editor version
Rights
Atribución-Non comercial-Compartir igual 4.0 Internacional (CC BY-NC-SA 4.0)
ISSN
2605-1222
ISBN
978-84-9749-818-0
Related items
Showing items related by title, author, creator and subject.
González-Sanmamed, Mercedes

;

Sangrà, Albert

;

Souto-Seijo, Alba

;

Estévez, Iris

(

2020

)

[Abstract] The immersion of society in the digital age has decisively influenced people's ways of behaving, in the field of work, economy, entertainment and teaching. Higher education is undergoing a great transformation ...

Serdio Sánchez, Carmen

(

Universidade da Coruña

,

2009

)

[Resumen] La consolidación del discurso educativo en la vejez pasa por integrar en sus funda- mentos nuevos marcos teóricos que permitan diseñar procesos de enseñanza-aprendizaje desde una perspectiva más constructivista ...

Pérez Sánchez, Beatriz

(

2010

)

[Abstract] The core of this work is the development of new supervised learning methods for feedforward neural networks. In the first place, improvements on already developed learning methods are presented in order to ...