Learning Ecologies in the Digital Era: Challenges for Higher Education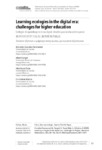 Except where otherwise noted, this item's license is described as Atribución-NoComercial-CompartirIgual 4.0 Iinternacional
Title
Learning Ecologies in the Digital Era: Challenges for Higher Education
Alternative Title(s)
Ecologías de aprendizaje en la era digital: desafíos para la educación superior
数字时代的学习生态:高等教育的挑战
Экология обучения в цифровую эпоху: вызовы для высшего образования

Author(s)
Date
2020
Citation
González-Sanmamed, M., Sangrà, A., Souto-Seijo, A., & Estévez, I. (2020). Learning ecologies in the digital era: challenges for higher education. Publicaciones, 50(1), 83–102. doi:10.30827/publicaciones.v50i1.15671
Abstract
[Abstract] The immersion of society in the digital age has decisively influenced people's ways of behaving, in the field of work, economy, entertainment and teaching. Higher education is undergoing a great transformation due to the technological development in which we are immersed, and these continuous changes have shown the need to keep us updated permanently, thus adopting the idea of ​​life-long learning. Each person and each professional has a wide and diverse range of possibilities to be trained and to learn, which requires individuals to take more and more control over their own learning process. The concept of learning ecologies provides a framework of analysis to know how we learn, and what contexts and/or elements we use to train ourselves, in order to provide us with new learning opportunities. Being aware of the elements and / or contexts that make up our learning ecologies can be a very useful strategy to help us update ourselves in a self-directed and effective way. This has led us to carry out a bibliographic study aimed at identifying some of the aspects that characterize the new ways in which we learn, which will allow us to understand the role that the university should play in today's society.
[Resumen] La inmersión de la sociedad en la era digital ha influido de manera decisiva en las formas de comportarse de las personas, en el ámbito del trabajo, de la economía, del entretenimiento y de la enseñanza. La educación superior está sufriendo una gran transformación debido al desarrollo tecnológico en el que estamos sumergidos, y esos continuos cambios han evidenciado la necesidad de mantenernos actualizados de forma permanente, adoptando así la idea de aprendizaje a lo largo de la vida. Cada persona tiene un abanico de posibilidades, amplio y diverso para formarse y para aprender, lo que exige a los individuos tomar cada vez más el control de su propio proceso de aprendizaje. El concepto de ecologías de aprendizaje proporciona un marco de análisis para saber cómo aprendemos, y qué contextos y/o elementos empleamos para formarnos, con el fin de proporcionarnos nuevas oportunidades de aprendizaje. Ser conscientes de los elementos y/o contextos que configuran nuestras ecologías de aprendizaje puede ser una estrategia muy útil que nos ayude a actualizarnos de forma autodirigida y efectiva. Esto nos ha llevado a realizar un estudio bibliográfico dirigido a identificar algunos de los aspectos que caracterizan las nuevas formas en que aprendemos, lo cual nos permitirá comprender el papel que debe jugar la universidad en la sociedad actual.
[概要] 在数字时代的社会沉浸已经对人们在工作,经济,娱乐和教学领域的行为方式产生了决定 性的影响。 高等教育正在经历着科技发展带来的巨大变革,而这些不断的变化证明了我们 需要不断适应当前情况,采纳终身学习的理念。每个人都有各种各样的培训和学习机会, 这要求个人越来越能够掌控自己的学习进程。学习生态的概念为分析我们如何学习以及 我们运用什么背景和/或元素训练自己提供了一个框架,以便为我们提供新的学习机会。 能够意识到影响我们学习生态的要素和/或情境可以是一个非常有用的策略来帮助我们 以有效的自我指导跟上形势。由此,我们进行了一项参考书目研究,旨在确定表现我们学 习新方法的某些方面,这将使我们能够了解大学在当今社会中应发挥的作用。
[Aннотация] Погружение общества в цифровую эпоху оказало решающее влияние на то, как люди ведут себя в сфере труда, экономики, развлечений и образования. Высшее образование претерпевает большие изменения в связи с технологическим развитием, в которое мы погружаемся, и эти непрерывные изменения показали необходимость постоянного обновления, тем самым принимая идею обучения на протяжении всей жизни. У каждого человека есть широкий и разнообразный спектр возможностей для обучения и познания, что требует от него все большего контроля над собственным процессом обучения. Концепция учебной экологии обеспечивает рамки для анализа того, как мы учимся и какие условия и/или элементы мы используем для обучения, с тем чтобы предоставить нам новые возможности для обучения. Знание элементов и/или контекстов, которые формируют нашу обучающую среду, может быть очень полезной стратегией, которая помогает нам обновлять себя самонаправленным и эффективным образом. Это привело нас к проведению библиографического исследования направленного на выявление некоторых аспектов, характеризующих новые методы обучения, которые позволят нам понять ту роль, которую должен играть университет в современном обществе.
Keywords
Educación superior
Ecologías de aprendizaje
Aprendizaje informal
Aprendizaje a lo largo de la vida
Aprendizaje ubicuo
Aprendizaje autodirigido
Description
This article is the English translation of the one already published in Spanish in 2018: González-Sanmamed, M., Sangrà, A., Souto-Seijo, A., & Estévez, I. (2018). Ecologías de aprendizaje en la Era digital: desafíos para la educación superior. Publicaciones, 48(1), 25-45. Doi:10.30827/publicaciones.v48i1.7329
Editor version
Rights
Atribución-NoComercial-CompartirIgual 4.0 Iinternacional
ISSN
2530-9269
Related items
Showing items related by title, author, creator and subject.
García-Naya, José A.

(

Universidade da Coruña, Servizo de Publicacións

,

2021

)

Serdio Sánchez, Carmen

(

Universidade da Coruña

,

2009

)

[Resumen] La consolidación del discurso educativo en la vejez pasa por integrar en sus funda- mentos nuevos marcos teóricos que permitan diseñar procesos de enseñanza-aprendizaje desde una perspectiva más constructivista ...

Pérez Ramos, Diego

(

2020

)

[Resumen] La clasificación de estados de sueño es una rama de la medicina del sueño que se encarga de detectar anomalías en el sueño de un individuo, utilizando para ello información de señales como EEG, EOG y EMG. En ...