El marketing 5.0 y su efecto en la estrategia empresarial del sector industrial en España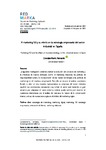 Except where otherwise noted, this item's license is described as Atribución-Compartir igual 4.0 Internacional (CC BY-SA 4.0)
Collections
Title
El marketing 5.0 y su efecto en la estrategia empresarial del sector industrial en España
Alternative Title(s)
Marketing 5.0 and Its Effect on Business Strategy in the Industrial Sector in Spain
Author(s)
Date
2021-06-30
Citation
González-Ferriz, F. (2021). El marketing 5.0 y su efecto en la estrategia empresarial del sector industrial en España. Redmarka. Revista de Marketing Aplicado, 25(1), 1-20. https://doi.org/10.17979/redma.2021.25.1.7848
Abstract
[Resumen] La siguiente investigación pretende analizar la evolución del concepto de marketing y la influencia de nuevos enfoques (como el marketing relacional, las políticas de responsabilidad social y la incorporación de las nuevas tecnologías a las políticas de marketing) en el resultado empresarial. Para ello se recurre al análisis cuantitativo llevado a cabo en una muestra representativa de empresas del sector industrial español. Las conclusiones demuestran que, si bien el sector está haciendo un gran esfuerzo por adaptarse al nuevo entorno, todavía queda camino por recorrer en cuestiones relacionadas con el análisis del mercado, la mejora de la comunicación interna y el uso de nuevas tecnologías en el ámbito del marketing digital.
[Abstract] The article examines the evolution of the concept of marketing and the impact of new marketing approaches (namely, relational marketing, corporate social responsibility policies and use of new technologies) on company performance. The study uses a quantitative analysis based on a representative sample of companies from the industrial sector in Spain. The results show that, despite significant efforts within the sector to adapt companies to the new digital environment, much progress remains to be made in relation to market analysis, internal communication and the use of new digital marketing technologies.
Keywords
Estrategia de marketing
Marketing digital
Marketing 5.0
Estrategia empresarial
Orientación al cliente
Marketing relacional
Marketing strategy
Digital marketing
Business strategy
Customer orientation
Relational marketing
Description
Este artículo forma parte de la sección monográfica de este número, titulada «Marketing y capitalismo: nuevas formas de consumo en el siglo XXI», coordinada por Pascual García Macías (Universidad Técnica Particular de Loja, Ecuador)
Editor version
Rights
Atribución-Compartir igual 4.0 Internacional (CC BY-SA 4.0)
ISSN
1852-2300
Related items
Showing items related by title, author, creator and subject.
Riani Costa Perinotto, André

;

Lima Sobrinho, Luciano de

;

Rodrigues Soares, Jakson Renner

;

Sánchez-Fernández, María Dolores

(

Universidade Nove de Julho

,

2021

)

[Resumo] Objetivo do estudo: Com o surgimento do vírus Covid-19, medidas de prevenção para controlar seu avanço foram tomadas por todo o mundo, acarretando impactos significativos no setor turístico e obrigando as empresas ...

Canossa Montes de Oca, Héctor

(

Universidade da Coruña

,

2019

)

[Resumen] El marketing efectivo requiere de procesos de información continuos. Las acciones estratégicas y las investigaciones aisladas no son suficientes, lo que necesitan las empresas son sistemas integrales de información ...

Lapeña Reguero, María

;

Gomes-Franco e Silva, Flávia

(

Universidade da Coruña

,

2019

)

[Resumen] Una de las principales herramientas de comunicación utilizadas por las empresas es el evento corporativo. Se trata de un conjunto de acciones diferenciales que redundan en un encuentro único y experiencial con ...