Rediseño de una plataforma de control de temperatura de bajo coste para la educación en ingeniería de control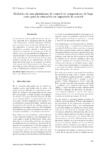 View/Open

Except where otherwise noted, this item's license is described as Atribución-NoComercial-CompartirIgual 4.0 Internacional https://creativecommons.org/licenses/by-nc-sa/4.0/deed.es
Collections
Title
Rediseño de una plataforma de control de temperatura de bajo coste para la educación en ingeniería de control
Alternative Title(s)
Redesign of a low-cost temperature control platform for control engineering education
Author(s)
Date
2021
Citation
Rico-Azagra, J., Gil-Martínez, M. Rediseño de una plataforma de control de temperatura de bajo coste para la educación en ingeniería de control. En XLII Jornadas de Automática: libro de actas. Castelló, 1-3 de septiembre de 2021 (pp. 275-281). DOI capítulo: https://doi.org/10.17979/spudc.9788497498043.275 DOI libro: https://doi.org/10.17979/spudc.9788497498043
Abstract
[Resumen] Se presenta el diseño y fabricación de una versión mejorada de la plataforma docente de bajo coste Temperature Control Laboratory (TCLab), para la instrucción y el auto-aprendizaje del control automático. Un menor coste de fabricación adquisición, un menor tamaño y volumen, y las mejoras en el interface de conexión con el PC, facilitan el uso y la portabilidad del dispositivo. La mejora lograda en el comportamiento din´amico resulta especialmente útil en sistemas térmicos para acortar el tiempo de los experimentos. El nuevo desarrollo forma parte de un proyecto de innovación docente de la Universidad de La Rioja, y se distribuye de forma libre para que pueda ser fabricado y modificado por cualquier usuario.
[Abstract] The work presents the design and manufacture of an update of the low-cost teaching platform Temperature Control Lab (TCLab) for self-learning and instruction on automatic control. A lower acquisition cost, smaller size, and improvements in the interface of connection with the PC facilitate the use and portability of the device. Beyond that, an improved dynamic behaviour is especially useful in thermal systems to shorten the time of the experiments. The new development is part of a teaching innovation project at the University of La Rioja, and is freely distributed so that it can be manufactured and modified by any user.
Keywords
Educación
Control de procesos
Bajo coste
Prácticas de control
Education
Process Control
Low-cost
Testbed
Editor version
Rights
Atribución-NoComercial-CompartirIgual 4.0 Internacional https://creativecommons.org/licenses/by-nc-sa/4.0/deed.es
ISBN
978-84-9749-804-3
Related items
Showing items related by title, author, creator and subject.
Méndez Busto, Daniel

(

2017

)

[Resumen] El objetivo principal del presente trabajo de fin de grado es llevar a cabo el control remoto de la planta de nivel del laboratorio de optimización y control de la Escuela Universitaria Politécnica de Ferrol ...

Vilanova, R.

;

Santin, I.

;

Pedret, C.

;

Barbu, M.

(

Área de Ingeniería de Sistemas y Automática, Universidad de Extremadura

,

2018

)

[Abstract] This paper addresses the problem of basic control loops in wastewater treatment plants. By basic control loops we are referring to the traditional dissolved oxygen and nitrates. They are the basic controls more ...

O obxecto principal deste traballo fin de grao é levar a cabo a comparativa de diferentes técnicas de control, dende as máis tradicionais, a algunhas das propostas máis recentes. Ditas técnicas serán estudadas sobre unha ...