Dicionários monolíngues da Língua Galega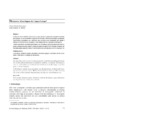 Ver/abrir
Coleccións
Título
Dicionários monolíngues da Língua Galega
Autor(es)
Data
2005
Cita bibliográfica
Revista Galega de Filoloxía, 2005, 6: 51-72. ISSN 1576-2661
Resumo
[Resumo] O objectivo deste trabalho será mostrar em que medida os principais dicionários monolíngues galegos de que actualmente dispomos no mercado fornecem informação (gramatical, combinatória, pragmática, etc.) suficiente para servirem como ferramentas para ajudar o utilizador a elaborar textos em galego (como língua materna, segunda ou estrangeira). Tentarei quantificar, de maneira aproximada, esta informação, para assim poder justificar respostas a perguntas do tipo: Qual é o melhor dicionário de galego? Que dicionário podemos utilizar para ajudar a aprender galego? Que dicionário nos pode ajudar a escrever em galego? etc.
[Abstract] The aim of this work is to show in what measure the current Galician unilingual dictionaries provide sufficient information (grammatical, combining, or pragmatic information) to serve as a tool to help users to elaborate texts in Galician (as mother tongue, second language or foreign language). I will attempt to quantify, in an approximate way, this information, for thus be able to justify answers to questions such as: Which is the best Galician dictionary? What dictionary can we use to learn Galician? What dictionary can help us to write in Galician? etc.
Palabras chave
Lexicografía
Metalexicografía
Dicionários
Dicionários galegos
Dicionários de uso
Dicionários codificadores
Avaliação de dicionários
Lexicography
Metalexicography
Dictionaries
Galician dictionaries
Usage dictionaries
Encoding dictionaries
ISSN
1576-2661
Ítems relacionados
Mostrando ítems relacionados por Título, autor ou materia.
[Resumo] Este traballo de investigación ten como obxectivo principal realizar o primeiro estudo histórico-descritivo dos diferentes procesos de formación de palabras en que interveñen afixos, con base nunha selección textual ...

López-Viñas, Xoán

(

Universidade da Coruña

,

2012

)

[Resumo] Neste artigo presentamos unha versión parcial e provisoria do Dicionario de afixos do galego medieval, que constitúe o primeiro repertorio temático de formacións afixais derivativas dentro do sistema lingüístico ...

Andrade, Ana Rebello de

(

Universidade da Coruña

,

2003

)