Actitudes de alumnado preadolescente ante la seguridad digital: un análisis desde la perspectiva de género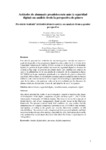 Title
Actitudes de alumnado preadolescente ante la seguridad digital: un análisis desde la perspectiva de género
Alternative Title(s)
Pre-teens students' attitudes about e-safety: an analysis from a gender perspective
Date
2019
Citation
Alonso-Ferreiro, A., Regueira, U., & Zapico-Barbeito, M.-H. (2019). Actitudes de alumnado preadolescente ante la seguridad digital: un análisis desde la perspectiva de género . Revista De Educación a Distancia (RED), 19(61). https://doi.org/10.6018/red/61/02
Abstract
[Resumen] Este artículo presenta los resultados de una investigación centrada en conocer el grado de desarrollo de la competencia digital de niñas y niños de 11 y 12 años de la Comunidad Autónoma de Galicia. El foco se pone en el desarrollo de la identidad digital y la gestión de la privacidad, cuestiones de seguridad digital en el marco de referencia DigComp. Se presenta un estudio mixto que combina seis estudios de casos y la administración de una prueba de evaluación de la competencia digital (ECODIES) en la que participan, atendiendo a las variables de género y dimensión seguridad, 486 escolares. Los resultados apuntan a una discordancia entre las buenas actitudes y alta concienciación en el uso seguro de la tecnología, especialmente por parte de las niñas, y las prácticas reales en la red, mediadas por los discursos de alarma social que afectan a las formas de participación de uno y otro género.
[Abstract] This article presents the results of an investigation focused on knowing the degree of development of the digital competence of girls and boys aged 11 and 12 in the Autonomous Community of Galicia (Spain). The focus is on the development of digital identity and privacy management, digital security issues in the DigComp framework. We present a mixed study that combines six case studies and the administration of a digital competence assessment test (ECODIES) that included participation, according to the gender and security dimension variables, of 486 schoolchildren. The results reveal a disagreement between good attitudes and high awareness in the safe use of technology, especially by girls, and real practices on the web, mediated by social alarm discourses that affect the forms of participation of both genders.
Keywords
Género
Seguridad digital
Preadolescencia
Competencia digital
Gender
Digital safety
Pre-teens
Digital competence
Editor version
Rights
Atribución-NoComercial 3.0 España
Related items
Showing items related by title, author, creator and subject.
Sanz Larruga, Javier

;

Requejo Zalama, Javier

;

Pillado Quintáns, Sabela

;

Quiroga Barro, Gabriel

;

Penteado, Pedro

;

Cruz Mundet, José Ramón

;

Díez Carrera, Carmen

;

Fernández Carrasco, José Ángel

;

Rabionet i Jansen, Raül

;

Sanyer i Gonzàlez, Mònica

;

Manero Carbó, Nicolás

;

Tortosa Gil, Carlota

;

González Siguero, Roberto

(

Universidade da Coruña

,

2018

)

[Resumen] El libro reúne las ponencias y experiencias empresa presentadas, además de las conclusiones aprobadas, en las 23 Jornadas de Archivos Universitarios, celebradas entre el 21 y 23 de junio de 2017 en A Coruña. Las ...

Rodríguez, María Magdalena

;

Martínez-Fernández, Valentín-Alejandro

;

Juanatey-Boga, Óscar

(

2020

)

[Resumen] En el sector de las publicaciones periódicas en papel, donde la prensa ha sido la más afectada, la digitalización ha generado importantes transformaciones en sus modelos de negocio, lo que ha propiciado, por un ...

Jove, Daniel

(

Universidade da Coruña

,

2021-12-08

)

[Resumen] El uso de ingenios tecnológicos, su capacidad disruptiva y condicionante de la vida en sociedad son las notas caracterizadoras de la era digital. Junto a las indudables ventajas y comodidades que los avances ...