Leukocyte telomere length in patients with radiographic knee osteoarthritis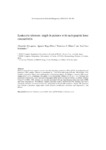 View/Open
Title
Leukocyte telomere length in patients with radiographic knee osteoarthritis
Author(s)
Date
2019-11-29
Citation
Mosquera A, Rego-Pérez I, Blanco FJ, Fernández JL. Leukocyte telomere length in patients with radiographic knee osteoarthritis. Environ Mol Mutagen. 2019; 60(3): 298-301
Abstract
[Abstract] Relative mean telomere sequence amount was determined by quantitative PCR (qPCR) of peripheral blood leukocyte (PBL) samples obtained at recruitment (n = 310) from individuals from the Osteoarthritis (OA) Initiative consortium. Knees were radiologically evaluated according to the Kellgren–Lawrence (KL) score, ranging from 0 to 4, considering a KL grade ≥ 2 as radiographic evidence of OA (n = 124). Telomere size decreased as baseline KL score increased, being significantly shorter in subjects with KL ≥2 (Mann–Whitney U‐test, P < 0.0001). PBL telomere size was also associated with age, hypertension, body mass index (BMI) and waist circumference. Nevertheless, logistic regression analysis showed that PBL telomere size was a consistent risk factor for concurrent knee OA, independent of these health parameters. Shorter PBL telomeres may indicate a premature aging status which enhances chondrocyte senescence and degenerative joint disease.
Keywords
Biomarker
Telomeres
Osteoarthritis
Knee
qPCR
Kellgren-Lawrence score
Description
Brief communication
Editor version
Rights
This is the peer reviewed version of the article which has been published in final form at Wiley Online Library. This article may be used for non-commercial purposes in accordance with Wiley Terms and Conditions for self-archiving.
ISSN
0893-6692