Evolución del marketing 1.0 al 4.0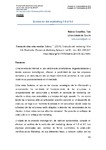 View/Open

Except where otherwise noted, this item's license is described as Atribución-CompartirIgual 4.0 España
Collections
Title
Evolución del marketing 1.0 al 4.0
Author(s)
Date
2018
Citation
Suárez-Cousillas, T. (2018). Evolución del marketing 1.0 al 4.0. Redmarka. Revista De Marketing Aplicado, 01(022), 209-227. https://doi.org/10.17979/redma.2018.01.022.4943
Abstract
[Resumen] El nacimiento de Internet, el uso cotidiano de smartphones, la geolocalización y demás avances tecnológicos, ofrecen la posibilidad de que las empresas contacten y se comuniquen con un mayor número de personas, lo cual puede incidir en su posicionamiento en el mercado. Entre otros factores, el uso de las nuevas tecnologías de la información y comunicación ha cambiado el funcionamiento de las empresas, el comportamiento del consumidor y también el concepto de marketing con relación a cómo eran entendidos a principios del siglo pasado. En una época donde las empresas sólo se esforzaban económicamente en el desarrollo del producto, se llega a un momento focalizado en el consumidor donde todos los esfuerzos de las empresas están dirigidos a detectar las necesidades de los clientes, incluso antes de que ellos las conozcan. Se pasa de un enfoque de producción a un enfoque de marketing. El objeto de la presente investigación, de carácter aproximativo, consiste en efectuar un análisis de la evolución del marketing, desde el 1.0 al 4.0. Los objetivos planteados son: analizar, de forma cuantitativa, la producción científica sobre Marketing, en sus diferentes fases, y conocer cuáles son las áreas de investigación con mayor producción científica en referencia al punto anterior en Scopus. La metodología aplicada se centra en la búsqueda de producción científica en la base de datos Scopus para el período comprendido entre el 2014 y 2018.
[Abstract] The birth of the Internet, the daily use of smartphones, geolocation and other technological advances, offer the possibility for companies to contact and communicate with a greater number of people, which can affect their positioning in the market.Among other factors, the use of new information and communication technologies has changed the functioning of companies, consumer behavior and the concept of marketing in relation to how they were understood at the beginning of the last century. In a time when companies only made economic efforts in the development of the product, it reaches a time focused on the consumer where all the efforts of the companies are aimed at detecting the needs of customers, even before they know them. It goes from a production approach to a marketing approach.The object of the present investigation, of approximate character, consists in carrying out an analysis of the evolution of marketing, from 1.0 to 4.0. The proposed objectives are: to analyze, quantitatively, the scientific production on Marketing, in its different phases, and to know which the research areas with the highest scientific production about the previous point in Scopus are. The methodology applied focuses on the search for scientific production in the Scopus database for the period between 2014 and 2018.
Keywords
Marketing
Evolución
Marketing digital
Marketing 4.0
Big Data
Predicción
Evolution
Digital marketing
Prediction
Editor version
Rights
Atribución-CompartirIgual 4.0 España
ISSN
1852-2300
Related items
Showing items related by title, author, creator and subject.
González-Ferriz, Fernando

(

Universidade da Coruña

,

2021-06-30

)

[Resumen] La siguiente investigación pretende analizar la evolución del concepto de marketing y la influencia de nuevos enfoques (como el marketing relacional, las políticas de responsabilidad social y la incorporación de ...

Riani Costa Perinotto, André

;

Lima Sobrinho, Luciano de

;

Rodrigues Soares, Jakson Renner

;

Sánchez-Fernández, María Dolores

(

Universidade Nove de Julho

,

2021

)

[Resumo] Objetivo do estudo: Com o surgimento do vírus Covid-19, medidas de prevenção para controlar seu avanço foram tomadas por todo o mundo, acarretando impactos significativos no setor turístico e obrigando as empresas ...

Canossa Montes de Oca, Héctor

(

Universidade da Coruña

,

2019

)

[Resumen] El marketing efectivo requiere de procesos de información continuos. Las acciones estratégicas y las investigaciones aisladas no son suficientes, lo que necesitan las empresas son sistemas integrales de información ...