La percepción y la pintura moderna como inversiones del modelo epistemológico clásico. (una visión Merleau-Pontyana)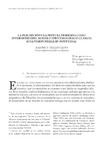 View/Open
Collections
Title
La percepción y la pintura moderna como inversiones del modelo epistemológico clásico. (una visión Merleau-Pontyana)
Author(s)
Date
2008
Citation
Conceptos revista de investigación graciana, 5: 123-137 ISSN 1697-2775
Abstract
[Resumen] El presente artículo pretende mostrar cómo Merleau-Ponty intentó superar el modelo epistemológico clásico mediante la percepción y la pintura. El edificio conceptual elaborado alrededor de la no-teticidad perceptiva crea la ilusión de la superación, pero todos los cambios acometidos son insuficientes porque se basan en la antigua ontología. Por eso, Merleau-Ponty propone la (endo)ontología de la Carne que se pone de manifiesto en la pintura moderna en la que la dicotomía sujeto-objeto deja paso al co-nacimiento del être-au-monde — être-du-monde.
[Sommaire] Notre objectif est montrer comment Merleau-Ponty poursuit surmonter le modèle épistémologique sujet-objet merci à la perception es à la peinture. Les concepts qu'entourent l'irréfléchi perceptive nous font croire au dépassement de cette dichotomie, mais Merleau-Ponty s'aperçois que ces changements se sont appuyés sur l'ancienne ontologie et, pour ça, il introduit l'ontologie de la Chair. Celle-là apparaît à la peinture moderne à laquelle la séparation sujet-objet disparaît pour laisser surgir le co-naître du être-au-monde — être-du-monde.
[Abstract] The broad outlines of this paper is to show how Merleau-Ponty tried to overcome the epistemological dichotomy subject-object between the perception and the picture. The conceptual building elaborated around the character non-positional of perception is insufficient because its supposes the past ontology. For this reason, Merleau-Ponty proposes the ontology of the flesh that shows in the modern picture. In it, the classical dichotomy disappear and we can observe the co-birth of a being-in-the-world and a being-at-the-world.
Keywords
Historia conceptual
Merleau-Ponty
Sujeto/Objeto
Epistemología
Percepción
Pintura
Histoire conceptuelle
Merleau-Ponty
Sujet/Objet
Épistémologie
Perception
Peinture
Conceptual history
Merleau-Ponty
Subject/Object
Epistemology
Perception
Picture
ISSN
1697-2775