El póster virtual, una nueva propuesta para la difusión del conocimiento en congresos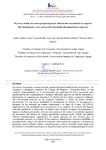 View/Open
Collections
Title
El póster virtual, una nueva propuesta para la difusión del conocimiento en congresos
Alternative Title(s)
The virtual poster, a new proposal for knowledge dissemination in congresses
Author(s)
Date
2016
Citation
Sportis, 2016, 2 (3): 456-473 ISSN: 2386-8333
Abstract
[Resumen] Las nuevas tecnologías son una excelente oportunidad para la difusión del conocimiento. Los congresos y seminarios científicos de Ciencias del Deporte y Educación Física, se han centrado tradicionalmente en los profesionales que participan de forma presencial, pero pueden apostar por la participación a distancia, utilizando para ello las nuevas tecnologías y herramientas de comunicación sincrónicas. El objetivo de este trabajo es mejorar la difusión, del conocimiento generado en los congresos científicos, a través del póster virtual/e-póster/póster 2.0, una nueva modalidad de presentación de trabajos de investigación a distancia. Se ha realizado un estudio longitudinal a lo largo de 4 años (2011-2014), implantándose esta modalidad en la arquitectura de un congreso de Ciencias del Deporte realizado anualmente en Pontevedra. Se analizan datos relativos al número de participantes y número de trabajos presentados, así como datos genéricos del evento. Los resultados muestran un incremento del número de trabajos presentados mediante póster virtual, sin hallarse relación estadísticamente significativa. Se puede suprimir así una frontera para el conocimiento generado en el ámbito de los congresos. Impulsándose una nueva modalidad de presentación de trabajos más allá de la estructura tradicional de los congresos, consistente en ponencias, mesas redondas, talleres, comunicaciones y pósters. El póster virtual puede abrir las fronteras y estimular la participación de profesionales que no consigan participar de forma presencial. La distancia se convierte así, no en un impedimento, sino una oportunidad de interactuar con otros profesores e investigadores de diferentes zonas del planeta.
[Abstract] New technologies are an excellent opportunity for knowledge dissemination. Sport Science Congresses have traditionally focused on professionals involved in a face-to-face way, but they can bet on the distance participation, using the new technologies and synchronous communication tools. The goal of this Project is to improve the dissemination of knowledge generated in scientific congresses through the virtual poster/e-poster/poster 2.0, a new modality of distance presentation of research projects. A longitudinal study has been carried out throughout 4 years (2011-2014), with this modality being introduced into the architecture of a congress carried out yearly in Pontevedra. Relative data to the number of participants and to the number of presented Projects are analyzed, as well as generic data of the event. There sults show an increase of the number of Projects presented by virtual poster, without to find a relation statistically significant. In this way it is possible to suppress a borderline for the knowledge generated in the congresses, with a new modality of presentation of Projects being promoted, beyond the traditional structure of the congresses. The virtual poster can stimulate the participation of professionals who do not get to participate in a face-to-face way. Therefore, the distance is an opportunity to interact with other teachers and researchers of the world.
Keywords
Difusión científica
Conocimiento científico
Póster virtual
E-póster
Póster 2.0
Educación a distancia
Moodle
Congresos CienciasDeporte
Scientific dissemination
Scientific knowledge
Virtual poster
E-poster
Poster 2.0
Distance education
Moodle
Sport science congress
Editor version
ISSN
2386-8333
Related items
Showing items related by title, author, creator and subject.
Calvo-Silvosa, Anxo

;

Longarela-Ares, Ángeles

;

DeLlano-Paz, Fernando

;

Bruna, Fernando

(

Universidade da Coruña, Cufie

,

2019

)

[Resumo] O curso de verán Empty Coruña contou con diferentes tipos de actividades nas que se aplicaron diversas metodoloxías. Isto foi posible grazas á labor desenvolvida por un equipo de traballo formado por docentes ...

Mingote Rodríguez, Enrique

(

Universidade da Coruña

,

2009

)

[Resumo] Este articulo non é só un compendio de normas sobre o deseño gráfico aplicado á Interpretación do Patrimonio, senón un manifesto sobre o que é un interprete grafico e cal é a situación destes/as profesionais a día ...

López Poza, Sagrario

(

Universidad de León

,

2006

)

RESUMEN: Los libros de emblemas difundieron una cultura simbólica codificada que llegó a ser muy apreciada con diferentes finalidades por humanistas, moralistas, sacerdotes, políticos y artistas plásticos. Las especiales ...