La responsabilidad social corporativa como oportunidad para las empresas turísticas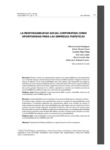 View/Open
Title
La responsabilidad social corporativa como oportunidad para las empresas turísticas
Author(s)
Date
2009
Citation
ROTUR Revista de ocio y turismo, 2009, 2: 11-43. ISSN: 1888-6884
Abstract
[Resumo] En primeiro lugar realízase unha aproximación xeral ao concepto de responsabilidade social empresarial e coméntanse algunhas das características deste novo modelo de xestión. A seguir, repásanse algunhas das responsabilidades que cabe esperar que as empresas turísticas asuman, así como tamén algunhas iniciativas de dentro e fóra do sector do turismo para fomentar a RSC por parte de distintos organismos internacionais, e as iniciativas desenvolvidas polas propias empresas neste sentido. Nas últimas seccións estúdase unha iniciativa concreta, a norma SA8000 de auditoría social, e as memorias de sustentabilidade.
[Resumen] Primero se hace una aproximación general a la responsabilidad social empresarial y se comentan algunas características de este nuevo modelo de gestión. Después se hace un repaso de algunas de las responsabilidades que cabe esperar que desarrollen las empresas turísticas, así como algunas iniciativas, dentro y fuera del sector del turismo, para fomentar la responsabilidad por parte de distintos organismos internacionales, y las iniciativas desarrolla- das por las propias empresas. En los últimos apartados se estudia una iniciativa concreta, la norma SA8000 de auditoría social, y las memorias de sostenibilidad.
[Abstract] This study begins with a general overview of corporate social responsibility, commenting on some of the characteristics of this new management model. The study then reviews some of the responsibilities that tourism companies can be expected to perform, as well as some ini- tiatives, both inside and outside the tourism sector, to promote responsibility by different international bodies, and the initiatives performed by the companies themselves. The final sec- tions study a specific initiative, standard SA8000 on social accountability, and sustainability reports.
Keywords
Responsabilidad social empresarial
Turismo sostenible
Memorias de sostenibilidad
Norma SA8000
Guías GRI
Corporate social responsability
Sustainable tourism
Sustainability reports
Standard SA8000
GRI guidelines
ISSN
1888-6884