Perspectivas pedagógicas en geomorfología.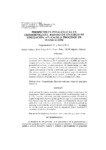 View/Open
Collections
Title
Perspectivas pedagógicas en geomorfología.
Author(s)
Date
1996
Citation
Cadernos do Laboratorio Xeolóxico de Laxe, 1996, 21: 203-212 ISSN: 0213-4497
Abstract
[Resumen] Los nuevos planes que se están poniendo en práctica en educación primaria y secundaria como consecuencia de la aplicación de la LOGSE, así como la reorganización de los estudios universitarios, contemplan algunos aspectos de geomorfología aplicada en varias asignaturas. El presente trabajo va a tratar cuestiones concernientes al área de conocimiento de Ciencias de la Tierra y del Espacio, concretamente se aborda la problemática que suponen las inundaciones. Para hacerlo accesible a los estudiantes se proponen juegos de simulación territorial que forman parte de un proyecto curricular que con carácter experimental venimos desarrollando en centros de enseñanza de La Rioja.
[Abstract] At the present, the national education authorities of Spain are involved in the arrangements of the Education Act named LOGSE for aH knowledge levels as primary, secondary and thereby university departments outside of LOGSE are implementing some subjects on applied geomorphology. So as, at the next work a little features into the province of Earth and Environment Sciences and particulary flood problems also are treated. AH of material is available for accessing the environmental issues to students using territory role - play games. At last, the results are covered from an educational project developed in secondary schools of La Rioja region.
Keywords
Geomorfología
Educación ambiental
Juegos de simulación
Inundaciones
Geomorphology
Environmental education
Role-play games
Floods
ISSN
0213-4497