Comunicación remota entre familiares a través de la robótica social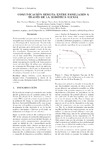 Except where otherwise noted, this item's license is described as Atribución-NoComercial-CompartirIgual 4.0 Internacional https://creativecommons.org/licenses/by-nc-sa/4.0/deed.es
Collections
Title
Comunicación remota entre familiares a través de la robótica social
Alternative Title(s)
Remote communication between family members through social robotics
Author(s)
Date
2021
Citation
Carrasco-Martínez, S., Quispe-Flores, MA., Sevilla-Salcedo, J., Gómez-Jiménez, J., Alonso-Martín, F., Salichs, M.A. Comunicación remota entre familiares a través de la robótica social. En XLII Jornadas de Automática: libro de actas. Castelló, 1-3 de septiembre de 2021 (pp.565-572). DOI capítulo: https://doi.org/10.17979/spudc.9788497498043.565 DOI libro: https://doi.org/10.17979/spudc.9788497498043
Abstract
[Resumen] En la actualidad una gran parte de las personas de avanzada edad no hacen uso frecuente de las Nuevas Tecnologías de la Información. En este trabajo tratamos de eliminar la fricción que tienen este tipo de personas para comunicarse con sus seres queridos de manera natural a través de los medios tecnológicos. Proponemos una aplicación de comunicación accesible e intuitiva implementada con el robot social Mini. Desarrollamos una interfaz gráfica que permite a los usuarios mantener conversaciones, llamadas y videollamadas mediante una aplicación sencilla y de forma guiada a través del robot Mini. Se utiliza como plataforma de comunicación WhatsApp, una de las aplicaciones más utilizadas, a día de hoy, en el mercado de los dispositivos inteligentes. Se pretende contribuir al cuidado y bienestar de la tercera edad.
[Abstract] Nowadays, a large number of senior people do not make frequent use of new information technologies. In this work, we try to eliminate the friction that they have to communicate with their family and friends naturally through technological means. We propose an accessible and intuitive communication application implemented with the Mini social robot. We developed a graphical interface that allows users to have conversations, calls, and video calls through a simple interface via Mini robot. The communication platform used is WhatsApp, one of the most widely used applications on the smart device market today. The aim is to contribute to the care and well-being of the elderly
Keywords
Robótica social
Interacción humano-robot
Comunicación a través de la robótica social
Inclusión digital
Redes sociales inclusivas
Social robotics
Human-robot interaction
Communication through social robotics
Digital inclusion
Inclusive social networks
Editor version
Rights
Atribución-NoComercial-CompartirIgual 4.0 Internacional https://creativecommons.org/licenses/by-nc-sa/4.0/deed.es
ISBN
978-84-9749-804-3
Related items
Showing items related by title, author, creator and subject.
Domínguez-Amorós, Màrius

;

Suárez-Grimalt, Laura

(

Instituto de Estudos Sociais e Políticos (IESP), Universidade do Estado do Rio de Janeiro (UERJ)

,

2022

)

[Resumen] El presente trabajo busca analizar el papel que los activos derivados de la participación de la población migrante de origen brasileño en redes sociales desempeñan a la hora de definir sus estrategias de movilidad ...

Barbeito Torrente, Silvia

(

2016-09

)

[Resumen] Introducción: La familia es un elemento clave en el proceso de recuperación en personas con trastorno mental grave, siendo proveedora de información útil para la recuperación de la persona y proporcionando apoyo ...

Modroño Alborés, Paula

(

2019

)

[Resumen] El presente trabajo pretende realizar un análisis documental acerca de las monedas sociales dentro del contexto español, profundizando en la iniciativa de los Bancos del Tiempo en la ciudad de Vigo. En este último ...