MeiA.4.0 para abordar los retos actuales de formación en automatización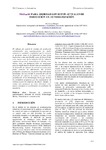 View/Open

Except where otherwise noted, this item's license is described as Atribución-NoComercial-CompartirIgual 4.0 Internacional https://creativecommons.org/licenses/by-nc-sa/4.0/deed.es
Collections
Title
MeiA.4.0 para abordar los retos actuales de formación en automatización
Alternative Title(s)
MeiA.4.0 to adress current challenges in automation training
Author(s)
Date
2021
Citation
Burgos, A., Iriondo, N., Alvárez, M.L., Sarachaga, I. MeiA.4.0 para abordar los retos actuales de formación en automatización. En XLII Jornadas de Automática: libro de actas. Castelló, 1-3 de septiembre de 2021 (pp. 240-247). DOI capítulo: https://doi.org/10.17979/spudc.9788497498043.240 DOI libro: https://doi.org/10.17979/spudc.9788497498043
Abstract
[Resumen] El software de control de sistemas de producción automatizados está experimentando un rápido aumento en cantidad y complejidad que lo convierte es un factor clave en la transición de una visión tradicional a una más flexible capaz de hacer frente a los nuevos retos de la Industria 4.0. La industria requiere de personal capacitado para afrontar estos nuevos retos, con formación tanto en tecnologías para la transformación digital como en metodologías de desarrollo de software de control necesarias para poder conectar la información del proceso productivo con procesos de gestión bajo este nuevo paradigma. En este artículo se presenta un ciclo de desarrollo de software de control en base a una actualización de la metodología MeiA que incluye los estándares propuestos por las arquitecturas de referencia para las empresas del futuro. Además, se realiza una propuesta de cómo introducir estos nuevos conceptos en la formación en enseñanzas de ingeniería.
[Abstract] Control software for automated production systems is experiencing a rapid increase in quantity and complexity that makes it a key factor in the transition from a traditional vision to a more flexible one capable of meeting the new challenges of Industry 4.0. The industry requires trained personnel to meet these new challenges, with training in both technologies for digital transformation and control software development methodologies necessary to connect the information of the production process with management processes under this new paradigm. This article presents a control software development cycle based on an update of the MeiA methodology that includes the standards proposed by the reference architectures for the companies of the future. In addition, a proposal is made on how to introduce these concepts in engineering education.
Keywords
Sistemas de producción automatizados
Software de control
Metodología MeiA.
Formación en automatización
Automated Production Systems
Control software
Methodology
Training in automation
Editor version
Rights
Atribución-NoComercial-CompartirIgual 4.0 Internacional https://creativecommons.org/licenses/by-nc-sa/4.0/deed.es
ISBN
978-84-9749-804-3