STEAM, ¿una nueva distracción para la enseñanza de la ciencia?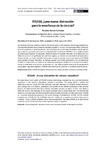 View/Open

Except where otherwise noted, this item's license is described as Atribución-CompartirIgual 4.0 España
Collections
Title
STEAM, ¿una nueva distracción para la enseñanza de la ciencia?
Alternative Title(s)
STEAM, a New Distraction for Science Education?
Author(s)
Date
2020
Citation
García-Carmona, A. (2020). STEAM, ¿una nueva distracción para la enseñanza de la ciencia?. Ápice. Revista De Educación Científica, 4(2), 35-50. https://doi.org/10.17979/arec.2020.4.2.6533
Abstract
[Resumen] Se presenta un ensayo sobre la irrupción del movimiento STEAM (science, technology, engineering, art and mathematics) en el contexto educativo español. El ensayo, de naturaleza crítica y reflexiva, se construye desde la mirada particular, pero informada, de un educador de profesorado de ciencia, que analiza la aportación, pertinencia y viabilidad del movimiento STEAM en el complejo proceso de mejora que requiere la educación científica básica en España. Para ello, se empieza con una reflexión en torno al significado del acrónimo inglés y su relación con el tradicional ámbito curricular científico-tecnológico. Luego se discute sobre la perspectiva de STEAM como posible enfoque educativo, la analogía escolar del STEAM profesional y las competencias STEAM. A continuación, se analiza el encuadre del movimiento STEAM con la concepción tradicional de la enseñanza de la ciencia. Se termina con una reflexión global acerca de las perspectivas que podrían augurarse respecto a STEAM como enfoque educativo en el contexto español actual.
[Abstract] An essay about the irruption of STEAM (science, technology, engineering, arts and mathematics) movement in the Spanish educational context is presented. The essay, which is critical and reflective in nature, is built from the particular view, yet informed, of a science teacher educator, who analyses the contribution, pertinence and viability of the STEAM movement in the complex process of improvement that basic science education requires in Spain. To this end, firstly a reflection around the meaning of the English acronym and its relationship with the traditionally known as curricular area of science and technology is made. Secondly, it is discussed about STEAM as a possible educational approach, the school analogy of professional STEAM, and the STEAM competences. Thirdly, the fit of STEAM with the traditional conception of science education is analysed. Finally, a global reflection about what perspectives regarding STEAM as an educational approach can be expected in the current Spanish context is exposed.
Keywords
Ámbito científico-tecnológico
Contexto educativo
Enfoque educativo
Enseñanza de la ciencia
STEAM
Educational approach
Educational context
Science education
Scientific-technological area
Editor version
Rights
Atribución-CompartirIgual 4.0 España
ISSN
2531-016X