O queimaserebros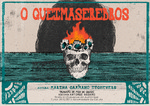 View/Open
Collections
Title
O queimaserebros
Author(s)
Directors
Seoane, Antonio
Date
2019
Center/Dept./Entity
Universidade da Coruña. Facultade de Ciencias da comunicación
Description
Traballo fin de grao (UDC.COM). Comunicación audiovisual. Curso 2018/2019
Abstract
[Resumen] O Queimaserebros es un proyecto audiovisual que tiene como fin promocionar una gira musical veraniega. Consta de tres partes fundamentales. La más importante de ellas, la dirección y realización de un videoclip musical. Por otra parte, la creación de la identidad corporativa de la gira. Por último, una campaña de marketing que ayude a consolidar toda la estrategia de promoción. La esencia del proyecto es la combinación de la cultura gallega con la mexicana, en un Universo lleno de contrastes.
[Resumo] O Queimaserebros é un proxecto audiovisual que ten como fin promocionar unha xira musical estival. Consta de tres partes fundamentais. A máis importante delas, a dirección e realización dun videoclip musical. Por outra banda, a creación da identidade corporativa da xira. Para rematar, unha campaña de marketing que axude a consolidar toda a estratexia de promoción. A esencia do proxecto é a combinación da cultura galega coa mexicana, nun Universo cheo de contrastes.
[Abstract] O Queimaserebros is an audiovisual project that aims to promote a summer musical tour. It consists of three fundamental parts. The most important of them, the direction and realization of a music video. Moreover, the creation of the corporate identity of the tour. Finally, a marketing campaign that helps consolidate the entire promotion strategy. The essence of the project is the combination of Galician and Mexican culture, in a universe full of contrasts.
Keywords
Videoclip
Dirección
Realización
Identidad corporativa
Campaña de marketing
Identidade corporativa
Direction
Realization
Corporate identity
Marketing campaign
Rights
Os titulares dos dereitos de propiedade intelectual autorizan a visualización do contido deste traballo a través de Internet, así como a súa reproducción, gravación en soporte informático ou impresión para o seu uso privado e/ou con fins de estudo e de investigación. En nengún caso se permite o uso lucrativo deste documento. Estos dereitos afectan tanto ó resumo do traballo como o seu contido Los titulares de los derechos de propiedad intelectual autorizan la visualización del contenido de este trabajo a través de Internet, así como su repoducción, grabación en soporte informático o impresión para su uso privado o con fines de investigación. En ningún caso se permite el uso lucrativo de este documento. Estos derechos afectan tanto al resumen del trabajo como a su contenido