Mejora docente e incremento de la visibilidad en la ingeniería naval e industrial a través del uso de instalaciones experimentales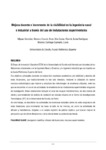 View/Open

Except where otherwise noted, this item's license is described as Atribución-Non comercial-Compartir igual 4.0 Internacional (CC BY-NC-SA 4.0)
Collections
Title
Mejora docente e incremento de la visibilidad en la ingeniería naval e industrial a través del uso de instalaciones experimentales
Author(s)
Date
2020
Citation
Míguez González, Marcos; Gosset, Anne; Díaz Casás, Vicente; Lema Rodríguez, Marcos; Santiago Caamaño, Lucía (2020): Mejora docente e incremento de la visibilidad en la ingeniería naval e industrial a través del uso de instalaciones experimentales. En De la Torre Fernández, E. (ed.) (2020). Contextos universitarios transformadores: Boas prácticas no marco dos GID. IV Xornadas de Innovación Docente. Cufie. Universidade da Coruña. A Coruña (págs. 405-420). DOI capítulo: https://doi.org/10.17979/spudc.9788497497756.405 DOI libro: https://doi.org/10.17979/spudc.9788497497756
Abstract
[Resumen] El Grupo de Innovación Educativa CITEX de la Universidade da Coruña está formado por docentes de las titulaciones relacionadas con la Ingeniería Naval y Oceánica y la Ingeniería Industrial que se imparten en la Escola Politécnica Superior de Ferrol. Sus objetivos principales consisten en mejorar los resultados académicos y la visibilidad y atractivo de estas titulaciones, que tradicionalmente no han sido elevados, mediante la utilización de nuevos recursos metodológicos que mejoren y actualicen las metodologías de enseñanza utilizadas, entre los que se encuentran el uso en las actividades de enseñanza de las instalaciones experimentales singulares de investigación. Estas instalaciones incluyen el canal de ensayos hidrodinámicos, los dos túneles de viento y una instalación de análisis de cavitación en válvulas situados en el Centro de Investigaciones Tecnológicas (CIT) de la Universidade da Coruña, en Ferrol. En este trabajo, se describirán las actividades de enseñanza realizadas dentro de varias asignaturas de estas titulaciones para incrementar las tasas de éxito de las mismas, así como las actividades de difusión y transferencia, dirigidas a un amplio espectro de público objetivo, que buscan mejorar la percepción que de dichas titulaciones y de la ciencia tienen su potencial alumnado.
[Abstract] The Education Innovation Group CITEX of the University of A Coruña is composed of professors and research assistants from degrees related to Marine Engineering and Naval Architecture and Industrial Engineering, which are taught in the Higher Polytechnic School in Ferrol. The main objectives of this group include improving the academic results of the students of these degrees and their visibility and attractiveness, which have been historically low. These goals are proposed to be obtained by using singular experimental research facilities: a hydrodynamic towing tank, two wind tunnels and a valve cavitation system, all placed in the Centre for Technological Research (CIT) of the University of A Coruña in Ferrol. In this work, the activities done within some courses of these degrees for increasing their success rates, together with the dissemination of these degrees and the research facilities directed to a broad spectrum of public, are described.
Keywords
Divulgación científica
Difusión de titulaciones
Recursos experimentales
Scientific dissemination
Degrees dissemination
Experimental resources.
Editor version
Rights
Atribución-Non comercial-Compartir igual 4.0 Internacional (CC BY-NC-SA 4.0)
ISSN
2605-1222
Related resource