Metodoloxías e ferramentas útiles para desenvolver un proxecto de Aprendizaxe-Servizo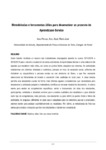 View/Open

Except where otherwise noted, this item's license is described as Atribución-NoComercial-CompartirIgual 3.0 España
Title
Metodoloxías e ferramentas útiles para desenvolver un proxecto de Aprendizaxe-Servizo
Author(s)
Date
2020
Citation
Ares-Pernas, Ana; Abad, María José (2020): Metodoloxías e ferramentas útiles para desenvolver un proxecto de Aprendizaxe-Servizo. En De la Torre Fernández, E. (ed.) (2020). Contextos universitarios transformadores: Boas prácticas no marco dos GID. IV Xornadas de Innovación Docente. Cufie. Universidade da Coruña. A Coruña (págs. 265-280).
Abstract
[Resumo]Neste traballo recóllese un resumo das metodoloxías empregadas durante os cursos 2015/2016 a 2018/2019 para o deseño e avaliación de varias actividades de Aprendizaxe-Servizo e unha selección de aquelas que resultaron máis útiles, así coma os puntos febles atopados nas mesmas. As actividades realizáronse con distintas entidades e colectivos; persoas en risco de exclusión social, enfermos de Alzheimer ou esquizofrenia e persoas xordas ou con síndrome de Down, o que fixo necesario seleccionar as ferramentas de traballo e avaliación máis axeitadas en cada caso. A clase inversa permitiu aos estudantes acadar de forma máis efectiva aquelas competencias que necesitaban para desenvolver a actividade (adquirir a metodoloxía científica ou manexar material de laboratorio). A rúbrica serviu para avaliar as competencias específicas, xerais e transversais. As citas dos estudantes, participantes, entidades e docentes serviron para a análise cualitativa dos resultados e para detectar outro tipo de competencias, máis persoais, nos estudantes ou para definir os puntos fortes e febles da actividade. As enquisas, diferentes en cada caso e adaptadas para os colectivos que así o precisaban, serviron tamén para analizar cuantitativamente os resultados. Por último, a metodoloxía de Foto-voz serviu para analizar o impacto que tivo nos estudantes o traballo na comunidade.
[Abstract] In this work a summary of methodologies undertaken during the 2015/2016-2018/2019 courses for the design and evaluation of several Service-Learning projects is presented. In addition, it can be seen a selection of those that were more useful and the weak points observed in them. The activities were performed with different entities and groups: people in risk of social exclusion, people with Alzheimer´s disease, schizophrenia or Down syndrome and deaf people; what made it necessary to select the most suitable work and assessment tools in each case. Flipped classroom allowed students to fulfil more effectively those skills they needed to develop the activities (acquire scientific methodology or work with laboratory material). The rubric was useful to evaluate specific, general and transversal competences. The students, users, entities and teacher quotes were useful for the qualitative analysis and to discover other skills, more personal, in the students or to define the strengths and weaknesses of the activity. The surveys, different in each case, and adapted for the groups that needed it, also served to analyze quantitatively the results. Finally, the Photo-voice methodology allowed to analyze the impact that the community work had on students.
Keywords
Rúbrica
Citas
Rubric
Quotes
Foto-voice
Flipped classroom
Foto-voz
Clase invertida
Editor version
Rights
Atribución-NoComercial-CompartirIgual 3.0 España
ISSN
2605-1222