O estudio do caso como metodoloxía activa no Mestrado en Eficiencia e Aproveitamento Enerxéticos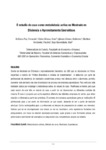 View/Open

Except where otherwise noted, this item's license is described as Atribución-NoComercial-CompartirIgual 3.0 España
Collections
Title
O estudio do caso como metodoloxía activa no Mestrado en Eficiencia e Aproveitamento Enerxéticos
Author(s)
Date
2020
Citation
De Llano Paz, Fernando; Calvo-Silvosa, Anxo; Iglesias Gómez, Guillermo; Martínez Fernández, Paulino; Bajo Buenestado, Raúl (2020): O estudio do caso como metodoloxía activa no Mestrado en Eficiencia e Aproveitamento Enerxéticos. En De la Torre Fernández, E. (ed.) (2020). Contextos universitarios transformadores: Boas prácticas no marco dos GID. IV Xornadas de Innovación Docente. Cufie. Universidade da Coruña. A Coruña (pág. 149-162)
Abstract
[Resumo] Dentro do Mestrado en Eficiencia e Aproveitamento Enerxético da UDC que se desenvolve en Ferrol, impártese a materia de "Política Enerxética e Análise de Investimentos". A detección por parte do profesorado da existencia de realidades académicas previas moi diversas entre o alumnado, permitiu converter este elemento nun eixo dinamizador do proceso de ensinanza-aprendizaxe. Para vehicular esta realidade óptase por empregar a metodoloxía activa do estudo do caso. Planifícase a materia para que cada sesión de aula teña un estudo do caso a partir do cal desenvolver os diferentes contidos da mesma. O caso é proposto por un/ha experto/a diferente das distintas empresas do sector, que teñen relación co Mestrado a partir das prácticas. O contexto de ensinanza-aprendizaxe gaña en motivación. O profesorado pasa a ser punto de información ao que acudir, deixando de ser o punto de atención principal. Como contrapartida para o profesorado os tempos de preparación da materia son elevados. Esforzo que se ve recompensado con creces ao ver os resultados: unha experiencia formativa moi enriquecedora con base na relación alumnado-alumnado, quen grazas á súa formación previa, ven potenciada a asimilación de conceptos e a adquisición das competencias propias da materia.
[Abstract] Within the UDC's Master's Degree in Energy Efficiency and Use, which is being held in Ferrol, the subject of "Energy Policy and Investment Analysis" is taught. The detection by the teaching staff of the existence of very diverse previous academic realities among the students, allowed to turn this element into a dynamic axis of the teaching-learning process. In order to convey this reality, the active methodology of the case study was used. The subject is planned so that each classroom session has a case study from which to develop the different contents. The case is proposed by a different expert from the different companies in the sector, which are related to the Master from the practices. The teaching-learning context gains in motivation. The teaching staff becomes a point of information to which to go, no longer the main focus of attention. In return, the teachers have to spend a lot of time preparing for the subject. This effort is more than rewarded when the results are seen: a very enriching training experience based on the relationship between students and pupils, who, thanks to their previous training, see the assimilation of concepts and the acquisition of the skills of the subject enhanced.
Keywords
Metodoloxías activas
Método do caso
Mestrado
Expertas/os.
Active methodologies
Case method
Master's degree
Experts
Editor version
Rights
Atribución-NoComercial-CompartirIgual 3.0 España
ISSN
2605-1222