Desarrollo e integración de aplicaciones Excel y software profesional de simulación numérica en una clase al revés en ingeniería hidráulica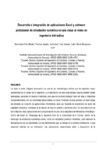 View/Open

Except where otherwise noted, this item's license is described as Atribución-NoComercial-CompartirIgual 4.0 Internacional
Collections
Title
Desarrollo e integración de aplicaciones Excel y software profesional de simulación numérica en una clase al revés en ingeniería hidráulica
Author(s)
Date
2020
Citation
Bermúdez Pita, María; Puertas Agudo, Jerónimo; Cea Gómez, Luis; Pena Mosquera, Luís (2020): Desarrollo e integración de aplicaciones Excel y software profesional de simulación numérica en una clase al revés en ingeniería hidráulica. En De la Torre Fernández, E. (ed.) (2020). Contextos universitarios transformadores: Boas prácticas no marco dos GID. IV Xornadas de Innovación Docente. Cufie. Universidade da Coruña. A Coruña (págs. 17-32).
Abstract
[Resumen] La clase al revés ('flipped classroom') es una de las metodologías activas que ha adquirido mayor popularidad en el campo de la ingeniería. La implantación de esta metodología requiere diseñar tareas adecuadas, apoyadas en buenos materiales, para que los alumnos trabajen fuera del aula, e integrarlas convenientemente con las actividades desarrolladas en clase. Partiendo de esta premisa, en este trabajo se presenta un conjunto de aplicaciones informáticas para uso docente en asignaturas de grado de ingeniería hidráulica, centradas en el cálculo de flujo en presión y en lámina libre. Se describe cómo se han integrado estas aplicaciones en la programación de aula de la asignatura de Hidráulica e Hidrología I (HH1) del Grado en Tecnología de la Ingeniería Civil de la Universidad de A Coruña, dentro de la estrategia de enseñanza-aprendizaje activa. Entre los resultados positivos obtenidos, cabe destacar la familiarización de los estudiantes con las herramientas que se utilizan en la práctica profesional, lo que repercute además en su motivación. Las aplicaciones desarrolladas están a disposición de la comunidad docente y esperamos que puedan ser empleadas en otros centros para la mejora del proceso de enseñanza de la ingeniería hidráulica.
[Abstract] The flipped classroom is one of the active teaching-learning methodologies that has become more popular in the field of engineering. The implementation of this methodology requires designing appropriate tasks, supported by good materials, that are to be carried out independently by the students outside the classroom, and that are conveniently integrated with the activities developed in class. Based on this premise, this paper presents a set of computational tools for hydraulic engineering students within an undergraduate curriculum, focused on the calculation pressure flow and free surface flow. It describes how these applications have been introduced into the Hydraulics and Hydrology I course of the Civil Engineering Technology Degree at the University of A Coruña, within an active teaching-learning strategy. The familiarization of students with the tools used in real practice, which also increases their motivation and engagement, is among the first positive results observed. The applications are freely available to the teaching community and we hope that they can be used in other centers to improve the teaching process of hydraulic engineering.
Keywords
Metodologías activas
Clase al revés
Ingeniería hidráulica
Aplicaciones informáticas
Active methodologies
Flipped classroom
Hydraulic engineering
Computer applications
Editor version
Rights
Atribución-NoComercial-CompartirIgual 4.0 Internacional
ISSN
2605-1222