Unravelling the interplay between hyperkalaemia, renin–angiotensin–aldosterone inhibitor use and clinical outcomes. Data from 9222 chronic heart failure patients of the ESC‐HFA‐EORP Heart Failure Long‐Term Registry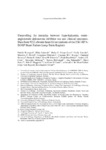 View/Open
Collections
Title
Unravelling the interplay between hyperkalaemia, renin–angiotensin–aldosterone inhibitor use and clinical outcomes. Data from 9222 chronic heart failure patients of the ESC‐HFA‐EORP Heart Failure Long‐Term Registry
Author(s)
Date
2020-04-03
Citation
Rossignol P, Lainscak M, Crespo‐Leiro MG, et al. Unravelling the interplay between hyperkalaemia, renin–angiotensin–aldosterone inhibitor use and clinical outcomes. Data from 9222 chronic heart failure patients of the ESC‐HFA‐EORP Heart Failure Long‐Term Registry. Eur J Heart Fail. 2020
Abstract
[Abstract] Aims. We assessed the interplay between hyperkalaemia (HK) and renin–angiotensin–aldosterone system inhibitor (RAASi) use, dose and discontinuation, and their association with all‐cause or cardiovascular death in patients with chronic heart failure (HF). We hypothesized that HK‐associated increased death may be related to RAASi withdrawal. Methods and results. The ESC‐HFA‐EORP Heart Failure Long‐Term Registry was used. Among 9222 outpatients (HF with reduced ejection fraction: 60.6%, HF with mid‐range ejection fraction: 22.9%, HF with preserved ejection fraction: 16.5%) from 31 countries, 16.6% had HK (≥5.0 mmol/L) at baseline. Angiotensin‐converting enzyme inhibitor (ACEi) or angiotensin receptor blocker (ARB) was used in 88.3%, a mineralocorticoid receptor antagonist (MRA) in 58.7%, or a combination in 53.2%; of these, at ≥50% of target dose in ACEi: 61.8%; ARB: 64.7%; and MRA: 90.3%. At a median follow‐up of 12.2 months, there were 789 deaths (8.6%). Both hypokalaemia and HK were independently associated with higher mortality, and ACEi/ARB prescription at baseline with lower mortality. MRA prescription was not retained in the model. In multivariable analyses, HK at baseline was independently associated with MRA non‐prescription at baseline and subsequent discontinuation. When considering subsequent discontinuation of RAASi (instead of baseline use), HK was no longer found associated with all‐cause deaths. Importantly, all RAASi (ACEi, ARB, or MRA) discontinuations were strongly associated with mortality. Conclusions. In HF, hyper‐ and hypokalaemia were associated with mortality. However, when adjusting for RAASi discontinuation, HK was no longer associated with mortality, suggesting that HK may be a risk marker for RAASi discontinuation rather than a risk factor for worse outcomes.
Keywords
Hyperkalaemia
Hypokalaemia
Heart failure
Renin–angiotensin–aldosterone system inhibitors
Prognosis
Mineralocorticoid receptor antagonists
Editor version
Rights
This is the peer reviewed version of the article which has been published in final form at Wiley Online Library. This article may be used for non-commercial purposes in accordance with Wiley Terms and Conditions for self-archving.
ISSN