GIS mapping of driving behavior based on naturalistic driving data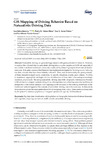 View/Open
Collections
Title
GIS mapping of driving behavior based on naturalistic driving data
Author(s)
Date
2019
Citation
Balsa-Barreiro, J.; Valero-Mora, P.M.; Berné-Valero, J.L.; Varela-García, F.-A. GIS mapping of driving behavior based on naturalistic driving data. ISPRS Int. J. Geo-Inf. 2019, 8, 226.
Abstract
[Abstract:] Naturalistic driving can generate huge datasets with great potential for research. However, to analyze the collected data in naturalistic driving trials is quite complex and difficult, especially if we consider that these studies are commonly conducted by research groups with somewhat limited resources. It is quite common that these studies implement strategies for thinning and/or reducing the data volumes that have been initially collected. Thus, and unfortunately, the great potential of these datasets is significantly constrained to specific situations, events, and contexts. For this, to implement appropriate strategies for the visualization of these data is becoming increasingly necessary, at any scale. Mapping naturalistic driving data with Geographic Information Systems (GIS) allows for a deeper understanding of our driving behavior, achieving a smarter and broader perspective of the whole datasets. GIS mapping allows for many of the existing drawbacks of the traditional methodologies for the analysis of naturalistic driving data to be overcome. In this article, we analyze which are the main assets related to GIS mapping of such data. These assets are dominated by the powerful interface graphics and the great operational capacity of GIS software.
Keywords
Big Data
Data visualization
Driving behavior
Geographic information systems
Kinematic (driving) data
Mapping
Microscopic traffic model
Naturalistic driving
Description
Este artigo pertence ao número especial Smart Cartography for Big Data Solutions.
Editor version
Rights
Atribución 3.0 España
Related items
Showing items related by title, author, creator and subject.
Figueira Dieste, Nuria

(

2014

)

[Resumen]El objetivo de este trabajo se centra en constatar los cambios y permanencias en el simbolismo y en las prácticas del velatorio, la conducción y el duelo en la aldea gallega, cuya población se encuentra sometida ...

Martínez-Díaz, Margarita

;

Soriguera, Francesc

;

Pérez Pérez, Ignacio

(

IET (The Institution of Engineering and Technology)

,

2019

)

[Abstract:] The introduction of autonomous vehicles (AV) will represent a milestone in the evolution of transportation and personal mobility. AVs are expected to significantly reduce accidents and congestion, while being ...

Medina Lee, Juan Felipe

;

Trentin, Vinicius

;

Villagra, Jorge

(

Universidade da Coruña, Servizo de Publicacións

,

2019

)

[Abstract] Efficient testing and validation of software components for highly automate vehicles is one of the key challenges to be solved for their massive deployment. The number of driving situation and environment variables ...