Avaliación 4.0: avaliación cooperativa en metodoloxías con aprendizaxe invertida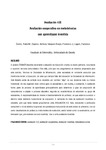 View/Open

Except where otherwise noted, this item's license is described as Atribución-NoComercial-CompartirIgual 3.0 España
Collections
Title
Avaliación 4.0: avaliación cooperativa en metodoloxías con aprendizaxe invertida
Author(s)
Date
2019
Citation
Castro, P.M.; Dapena, A.; Vázquez-Araujo, F.J.; Laport, F. (2019): Avaliación 4.0: Avaliación cooperativa en metodoloxías con aprendizaxe invertida. En De la Torre Fernández, E. (ed.) (2019). Contextos universitarios transformadores: construíndo espazos de aprendizaxe. III Xornadas de Innovación Docente. Cufie. Universidade da Coruña. A Coruña (pág. 175-188). DOI: https://doi.org/10.17979/spudc.9788497497121.175
Abstract
[Resumo] A palabra CAMBIO describe claramente a situación da Educación a todos os niveis (primaria, secundaria e superior) na nosa comunidade e fóra dela, polo que nos preguntamos se estamos preparados para este cambio. Vivimos na Sociedade da Información, unha sociedade en constante evolución que transforma tamén a Educación, de xeito que cómpre falar de Educación na Sociedade da Información. Este traballo xorde da vontade duns docentes por cambiar "algo" na súa docencia máis ou menos tradicional. Un dos aspectos máis críticos para os estudantes é, sen dúbida, a avaliación. A avaliación forma parte do proceso de aprendizaxe principalmente para determinar o grao de adquisición de competencias e adaptar o proceso educativo segundo as características do estudante ou grupo de estudantes. A responsabilidade da mesma é tradicionalmente do profesor, co que estamos a excluír o alumno deste elemento fundamental da educación. A demanda de roles de avaliación invertidos é crecente, polo que neste traballo propoñemos unha AVALIACION 4.0. Nela, estudantes e profesores comparten o rol de árbitros no proceso de aprendizaxe involucrando de xeito activo os primeiros, non só como deseñadores de probas ou instrumentos de avaliación, senón tamén como co-avaliadores, un rol innovador que, por analoxía coa aula invertida, leva a unha avaliación invertida.
[Abstract] The word CHANGE clearly describes the state-of-the-art of Education at all levels (primary, secondary and higher) in our community and outside of it, so we are wondering if we are prepared for such a change. We live in the Information Society, which is continuously evolving and Education changes with it. Thus talking about Education in the Information Society is mandatory. This work arises from the willingness of some professors of higher education to change "something" in their more or less traditional teaching. The assessment is definitely the most critical aspect of the learning process from the point of view of students. The assessment determines the degree of acquisition of competences and adapts the educational process according to the characteristics of the student or group of students. The professor is traditionally responsible for that, so students are excluded from that task. The demand for flipping assessment roles is growing, and therefore in this work we propose what we denote 4.0 ASSESSMENT. Both students and teachers will share the role of referees in the learning process by actively involving students not only as designers of assessment tests and instruments but also as coevaluators, an innovative role that takes us by analogy with the flipped classroom to flipped assessment
Keywords
Avaliación 4.0
Avaliación cooperativa
Avaliación invertida
Metodoloxía activa
4.0 assessment
Active learning
Cooperative assessment
Flipped assessment
Rights
Atribución-NoComercial-CompartirIgual 3.0 España
Related items
Showing items related by title, author, creator and subject.
Naves, Acacia

(

Universidade da Coruña, Cufie

,

2019

)

[Resumo] Na materia Sistemas de Abastecemento e Saneamento do Mestrado Internacional de Enxeñaría da Auga trabállanse as competencias transversais comunicativas, de consulta e selección de información e de avaliación ...

Caamaño Romero, Tamara

(

2016

)

[Resumo] A través do presente traballo lévase a cabo unha labor de investigación xurídica relativa á avaliación de impacto ambiental, de xeito pormenorizado sobre os proxectos sometidos á avaliación de impacto ambiental ...

Gutiérrez Pérez, José

;

Pozo Llorente, María Teresa

(

Universidade da Coruña

,

2006

)