Cognitive frailty: a conceptual systematic review and an operational proposal for future research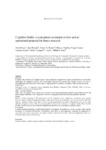 View/Open

Except where otherwise noted, this item's license is described as Atribución-NoComercial-SinDerivadas 3.0 España
Title
Cognitive frailty: a conceptual systematic review and an operational proposal for future research
Author(s)
Date
2018-12-07
Citation
Facal D, Maseda A, Pereiro AX, et al. Cognitive frailty: a conceptual systematic review and an operational proposal for future research. Maturitas. 2018; 121:48-56
Abstract
[Abstract] Objective. To analyze the definition of "cognitive frailty" and to study the conceptual and operational definitions used and their implications for empirical research. The relationships between this concept and cognitive reserve, the role of neuropathology and brain reserve, motor signs of aging and the reversibility of cognitive frailty are also discussed. Study design. Systematic review of empirical studies identified from Medline Advanced 1966, CINAHL, Web of Science, PsycINFO, and Scopus until August 2017. Main – outcome measures. Effect sizes. The quality of the articles was assessed by the Preferred Reporting Items for Systematic Reviews and Meta-Analysis Statement. Three independent reviewers participated in the study selection and data extraction. Results. Nineteen studies involving 31,707 participants met the inclusion criteria. Significant associations were reported between cognitive frailty and physical frailty or gait speed. Screening instruments were usually used to determine objective cognitive decline rather than extensive neuropsychological assessments. Educational level was the only indicator of cognitive reserve that was systematically included in the evaluation of cognitive frailty. Motor decline and gait variables were not systematically included in protocols for the assessment of cognitive frailty. Conclusions. A strong operational definition would benefit both the development of treatments to counter cognitive frailty and the assessment of treatment effectiveness. Nevertheless, since there is clear agreement regarding the importance of interventions for and the prevention of cognitive frailty, randomized controlled trials investigating the efficacy of preventive interventions are necessary.
Keywords
Cognitive frailty
Cognitive aging
Cognitive impairment
Physical frailty
Cognitive reserve
Editor version
Rights
Atribución-NoComercial-SinDerivadas 3.0 España
ISSN
0378-5122
Related items
Showing items related by title, author, creator and subject.
Maseda, Ana

;

Lodeiro Fernández, Leire

;

Lorenzo-López, Laura

;

Núñez-Naveira, Laura

;

Balo García, Aránzazu

;

Millán-Calenti, José Carlos

(

Taylor & Francis

,

2014-05-06

)

[Abstract] Objectives: To establish the possible relationship among three components of language (verbal fluency, naming and comprehension) and cognitive impairment as well as to determine the usefulness of language ...

González-Abraldes, Isabel

;

Millán-Calenti, José Carlos

;

Balo García, Aránzazu

;

Tubío, Javier

;

Lorenzo, Trinidad

;

Maseda, Ana

(

Elsevier

,

2009-10-05

)

[Resumen] Introducción: A pesar del gran avance de la tecnología en el campo de la intervención cognitiva computarizada, existen muy pocos estudios que sirvan de guía para la mejora del diseño de este tipo de herramientas ...

Montesano Montessori, Nicolina

;

Morales López, Esperanza

(

Critical Approaches to Discourse Analysis Across Disciplines (CADAAD)

,

2014

)

[Resumen] Este artículo ofrece una descripción de la emergencia del movimiento español Democracia real ya. Nuestro objetivo es analizar los rasgos discursivos más creativos de este movimiento social y conectar el análisis ...