The international prevalence and variability of nonadherence to the nonpharmacologic treatment regimen after heart transplantation: findings from the cross‐sectional BRIGHT study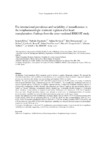 View/Open
Collections
Title
The international prevalence and variability of nonadherence to the nonpharmacologic treatment regimen after heart transplantation: findings from the cross‐sectional BRIGHT study
Author(s)
Date
2018-05-13
Citation
Helmy R, Duerinckx N, De Geest S, Denhaerynck K, Berben L, Russell CL, et al. The international prevalence and variability of nonadherence to the nonpharmacologic treatment regimen after heart transplantation: findings from the cross‐sectional BRIGHT study. Clin Transplant. 2018; 32(7):e13280
Abstract
[Abstract] Introduction. Heart transplant (HTx) recipients need to follow a complex therapeutic regimen. We assessed the international prevalence and variability in nonadherence to six nonpharmacologic treatment components (physical activity, sun protection, diet, alcohol use, nonsmoking, and outpatient follow‐up visits). Methods. We used self‐report data of 1397 adult HTx recipients from the 36‐HTx‐center, 11‐country, 4‐continent, cross‐sectional BRIGHT study (ClinicalTrials.gov ID: NCT01608477). The nonadherence definitions used were as follows: Physical activity: <3 times/wk 20 minutes' vigorous activity, <5 times/wk 30 minutes' moderate activity, or <5 times/wk a combination of either intensity; Sun protection: not "always" applying any sun protection; Diet: not "often" or "always" following recommended diet(s); Alcohol use: >1 alcoholic drink/d (women) or >2 drinks/d (men); Smoking: current smokers or stopped <1 year before; Follow‐up visits: missing ≥1 of the last 5 outpatient follow‐up visits. Overall prevalence figures were adjusted to avoid over‐ or underrepresentation of countries. Between‐country variability was assessed within each treatment component via chi‐square testing. Results. The adjusted study‐wide nonadherence prevalence figures were as follows: 47.8% for physical activity (95% CI [45.2‐50.5]), 39.9% for sun protection (95% CI [37.3‐42.5]), 38.2% for diet recommendations (95% CI [35.1‐41.3]), 22.9% for alcohol consumption (95% CI [20.8‐25.1]), 7.4% for smoking cessation (95% CI [6.1‐8.7]), and 5.7% for follow‐up visits (95% CI [4.6‐6.9]). Significant variability was observed between countries in all treatment components except follow‐up visits. Conclusion. Nonadherence to the post‐HTx nonpharmacologic treatment regimen is prevalent and shows significant variability internationally, suggesting a need for tailored adherence‐enhancing interventions.
Keywords
Adherence
Compliance
Health behaviors
Heart transplantation
Nonpharmacologic treatment
Editor version
Rights
This is the peer reviewed version of an article which has been published in final form at Wiley Online LIbrary. This article may be used for non-commercial purposes in accordance with Wiley Terms and conditions for self-archiving.
ISSN
1399-0012