Circulating microRNAs: molecular microsensors in gastrointestinal cancer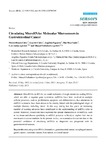 View/Open
Title
Circulating microRNAs: molecular microsensors in gastrointestinal cancer
Author(s)
Date
2012-07-09
Citation
Blanco-Calvo M, Calvo L, Figueroa A, Haz-Conde M, Antón-Aparicio L, Valladares-Ayerbes M. Circulating microRNAs: molecular microsensors in gastrointestinal cancer. Sensors (Basel) [Internet]. 2012 Jul 9 [acceso 2018 Ene 17];12(7):9.349-9362. Disponible en: http://www.mdpi.com/1424-8220/12/7/9349/htm
Abstract
[Abstract] MicroRNAs (miRNAs) are small molecules of single strand non-coding RNAs, which are able to regulate gene expression. miRNAs have been involved in multiple cellular processes, such as proliferation, apoptosis and differentiation, thus alterations in miRNA expression have been shown to be directly linked with the pathological origin of multiple diseases, including cancer. In this way, during last few years, an increasing number of exciting advances have contributed to the understanding of miRNA roles in cancer. Moreover, researchers have exploited the special characteristics of miRNAs, such as the tissue and disease specificity or miRNA presence in blood, to explore their use as non-invasive tumour markers. In the present review, we summarize the current data on the potential usefulness of circulating miRNAs as diagnostic and prognostic tools in gastrointestinal tumours.
Keywords
Circulating microRNAs
Biomarker
Gastrointestinal cancer
Oesophageal cancer
Gastric cancer
Pancreatic cancer
Liver cancer
Colorectal cancer
Editor version
Rights
Atribución 3.0 España
ISSN
1424-8220
Related items
Showing items related by title, author, creator and subject.
González Sáez, Luis Alfonso

(

2014

)

[Resumen]Se determinó la mortalidad por CCR en la Comunidad de Galicia durante el período 1980-2010. También se determinó la supervivencia y los factores pronósticos de los pacientes con la misma patología diagnosticados ...

Cámara-Quílez, María

;

Barreiro-Alonso, Aida

;

Vizoso-Vázquez, Ángel

;

Rodríguez-Belmonte, Esther

;

Quindós-Varela, María

;

Lamas, Mónica

;

Cerdán, María Esperanza

(

MDPI

,

2020-08-27

)

[Abstract] High mobility group box B (HMGB) proteins are overexpressed in different types of cancers such as epithelial ovarian cancers (EOC). We have determined the first interactome of HMGB1 and HMGB2 in epithelial ovarian ...

Peteiro-Vázquez, Jesús

;

Bouzas-Mosquera, Alberto

;

Pértega-Díaz, Sonia

;

Barbeito Caamaño, Cayetana

;

Broullón, Francisco

;

Vázquez-Rodríguez, José M.

(

Oxford Academic

,

2020-12-01

)