Diseño, validación y aplicación de una Hoja de Observación para la Evaluación de la Psicomotricidad Acuática (HOEPA) en edad infantil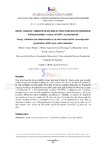 View/Open
Collections
Title
Diseño, validación y aplicación de una Hoja de Observación para la Evaluación de la Psicomotricidad Acuática (HOEPA) en edad infantil
Alternative Title(s)
Design, validation and administration of an observation tool for assessing water psychomotor skills in pre-school education
Author(s)
Date
2005
Citation
Sportis 2015, 1_3: 270-292 ISSN: 2386-8333
Abstract
[Resumen] Esta investigación ha pretendido crear una nueva hoja de observación que permita evaluar la psicomotricidad acuática así como conocer los niveles actuales de desarrollo de ésta mediante su aplicación. Para ello, 8 jueces expertos (maestros de Educación Física y monitores de natación todos ellos), han analizado la Hojade Observación para la Evaluación de la Psicomotricidad Acuática (HOEPA), compuesta por 5 factores (familiarización con el medio, equilibrio, desplazamientos, manipulaciones y relaciones sociales) obteniendo unos resultados satisfactorios. Además, se estudió el desarrollo psicomotor en el medio acuático de 58 niños de entre 3 y 6 años de edad destacando los factores desplazamientos y manipulaciones como los de puntuaciones más altas y relaciones sociales como el de puntuación más baja. Asimismo, el grupo de niños de 5-6 años mostró unos niveles de desarrollo significativamente superiores al grupo de 3-4 años.
[Abstract] This research has aimed to create a new observation tool that lets the assessment of water psychomotor skills as well as the knowledge of its current state of development through its administration. In order to that, 8 experts (Physical Education teachers and swimming monitors all of them), have analyzed the Observation Tool for Assessing Water Psychomotor skills, composed by 5 factors (familiarization with the context, balance, displacement, handling and social relationships) reporting satisfactory results. Furthermore, the water psychomotor development of 58 children aged between 3 and 6 years old was studied. Displacement and handling factors got the highest values meanwhile social relationships got the lowest value. Likewise, 5-6 years old group showed significant higher levels of water psychomotor development than 3-4 years old group.
Keywords
Habilidades motrices
Desarrollo motor
Actividades acuáticas
Natación infantil
Motor skills
Motor development
Water activities
Pre-school swimming.
Editor version
ISSN
2386-8333