Estructura organizativa e imagen promocional del Camino de Santiago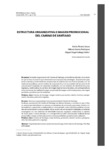 View/Open
Title
Estructura organizativa e imagen promocional del Camino de Santiago
Alternative Title(s)
Estructura organizativa e imaxe promocional do Camiño de Santiago
Organisational structure and promotional image of the Camino de Santiago (The way of St. James)

Date
2010
Citation
ROTUR Revista de ocio y turismo, 2010, 3: 11-38. ISSN: 1888-6884
Abstract
[Resumen] Se analiza la promoción del Camino de Santiago en las últimas décadas, el contexto en que se hizo, los actores que intervinieron en el proceso, las estrategias de promoción para atraer a turistas y a intermediarios, el patrocinio, la colaboración con el sector privado, con las instituciones políticas, con los medios de comunicación y con la sociedad civil; las acciones de comunicación realizadas, los materiales empleados con sus símbolos de identidad (mascota, logotipos, credenciales), los cambios de imagen bajo la marca Xacobeo, y la correspondencia entre comunicación realizada (imagen proyectada), la imagen conformada previa, y la imagen percibida a posteriori por los visitantes.
[Resumo] Analízase a promoción do Camiño de Santiago nas últimas décadas, o contexto en que se fixo, os actores que interviñeron no proceso, as estratexias de promoción para atraer turistas e intermediarios, o patrocinio, a colaboración co sector privado, coas institucións políticas, cos medios de comunicación e coa sociedade civil; as accións de comunicación realizadas, os materiais empregados cos seus símbolos de identidade (mascota, logotipos, credenciais), os cambios de imaxe baixo a marca Xacobeo, e a correspondencia entre comunicación realizada (imaxe proxectada), a imaxe conformada previa e a imaxe percibida a posteriori polos visitantes.
[Abstract] This includes an analysis of the promotion of the Camino de Santiago over the last few decades, the context in which this was carried out, the parties involved in the process, the promotional strategies to attract tourists and travel agencies, sponsorship, and collaboration with the private sector, with the political institutions, with the media and with civil society. It also examines the communication activities carried out, the materials used with their identifying symbols (mascot, logotype, credentials), the changes of image under the Xacobeo brand, and the link between the communication carried out (image projected), the confirmed initial image and the a posteriori image perceived by visitors.
Keywords
Camino de Santiago
Imagen turística
Promoción
Destino turístico
Peregrinación
Xacobeo
Patrocinio
Logotipo
Tourist image
Promotion
Tourist designation
Pilgrimages
Sponsorship
Logotype
ISSN
1888-6884