Paleoecological implications inferred from stable isotopic signatures (δ13C,δ15N) in bone collagen of Ursus spelaeus ROS.-HEIN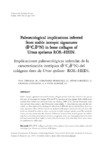 View/Open
Collections
Title
Paleoecological implications inferred from stable isotopic signatures (δ13C,δ15N) in bone collagen of Ursus spelaeus ROS.-HEIN
Alternative Title(s)
Implicaciones paleoecológicas inferidas de la caracterización isotópica (δ13C,δ15N) del colágeno óseo de Ursus spelaeus ROS.-HEIN.
Author(s)
Date
1999
Citation
Cadernos do Laboratorio Xeolóxico de Laxe, 1999, 24: 73-87 ISSN: 00213-4497
Abstract
[Abstract] Stable isotopic signatures measured in bone collagen provide with data related to the species diet type. In this paper we compare δ13C and δ15N outcomes in Ursus spelaeus ROS.-HEIN. Bone remains from Liñares site and Cova Eirós site (Galicia, NW of the Iberian Peninsula). Some data on fossil Ursus arctos L. and Pleistocene Cervus elaphus L. from Galician caves are also presented, as a first approach to distinguish paleodiets of different species inferred from their isotopic signatures. Once all data have been analyzed with proper statistical tools and since this work was planned in order to reduce variation in stable isotopic signals caused by metabolic causes, we may assume that the observed differences between both studied groups are exclusively due to environmental factors and show a migration of the cave bear population in the Serra do Courel mountains from higher to lower altitudes because of the transition from warm climatic conditions to colder ones.
Keywords
δ13C
δ15N
Collagen
Paleodiets
Ursus spelaeus
Ursus arctos
Cervus elaphus
Paleoclimatology
Late Pleistocene
Galicia
NW Spain
ISSN
0213-4497