Algunos apuntes sobre la evaluación de diccionarios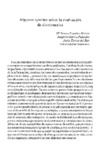 View/Open
Collections
Title
Algunos apuntes sobre la evaluación de diccionarios
Date
2005
Citation
Revista de lexicografía, 2004-2005, 11: 69-80. ISSN 1134-4539
Abstract
[Resumo] Ainda que xa se coñecen interesantes traballos que aportan criterios pertinentes para a avaliación de dicionarios, hai motivos que xustifican a necesidade de proseguir a investigación neste eido. Dunha banda, algúns destes criterios caeron no esquecemento, doutra, e máis importante, as novas xeracións de dicionarios deben dar resposta a outras expectativas, diríxense a distintos perfís de usuarios e elabóranse con distintos recursos textuais: todo isto debe levarnos a establecer distintos parámetros para a avaliación.
[Resumen] Aunque ya se presentaron interesantes trabajos que aportan criterios pertinentes para la evaluación de diccionarios, hay razones que justifican la necesidad de proseguir la investigación en este campo. Por un lado, algunos de estos criterios han caído en el olvido, por otro, y más importante aún, las nuevas generaciones de diccionarios deben responder a otras expectativas, se dirigen a distintos perfiles de usuarios y se elaboran con distintos recursos textuales: todo esto debe llevarnos a establecer distintos parámetros para la evaluación.
[Abstract] Despite the existence of prior studies providing pertinent criteria for the evaluation of dictionaries, there are reasons to justify the need for further research in this area. Sorne of these criteria have been forgotten, but -more importantly- the latest generations of dictionaries must fulfill different expectations, address different user profiles and are done with different textual resources: all of which must lead to the elaboration of differing evaluation parameters.
Keywords
Lexicografía
Diccionarios
Crítica lexicográfica
Evaluación
Indicios de calidad
Lexicography
Dictionaries
Lexicographic criticism
Evaluation
Quality indicators
Editor version
ISSN
1134-4539