Un centro de documentación ambiental ao servizo da educación ambiental e da conservación do medio ambiente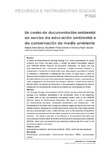 View/Open
Collections
Title
Un centro de documentación ambiental ao servizo da educación ambiental e da conservación do medio ambiente
Date
2007
Citation
Ambientalmente Sustentable 2007, 3: 89-97 ISSN: 1887-2417
Abstract
[Resumo] O Centro de Documentación Domingo Quiroga é un centro especializado en medio ambiente que tomou nos seus inicios o modelo de xestión documental utilizado polo CENEAM (Centro Nacional de Educación Ambiental). Os temas nos que está especializado son a Educación Ambiental, o Desenvolvemento Sostible e a Conservación. A evolución do centro pasou duas varias etapas: na primeiros o traballo foi orientado á clasificación e catalogación dos fondos; na etapa actual, a parte de desenvolverse as tarefas documentais habituais, ofrécense servizos como a elaboración de boletín electrónicos coas novas adquisicións chegadas ao centro, o que permite un mellor achegamento da información aos usuarios. Ademais o Centro forma parte do RECIDA (Rede de Centros de Información e Documentación Ambiental) que reúne a profesionais da documentación ambiental da maioría das comunidades do estado.
[Abstract] The Domingo Quiroga Documentation Centre (Centro de Documentación Domingo Quiroga) is an institution specializing in the environment which, in the beginning, modelled itself on the documentation management system used by the CENEAM (National Centre for Environmental Education). The areas in which it specializes are Environmental Education, Sustainable Development and Conservation. The development of the Centre went through two different stages: during the first, work was oriented towards classifying and cataloguing its funds; during the current stage, besides the usual documentation work, it offers services such as the production of electronic newsletters summarizing the Centre's latest acquisitions, which allow users to be better informed. The Centre is also part of the Network of Environmental Information and Documentation Centres (Rede de Centros de Información e Documentación Ambiental, RECIDA), which links environmental documentation professionals from most of the autonomous regions in the state.
Keywords
Documentación ambiental
Información ambiental
CEIDA
Centros de documentación
Environmental documentation
Environmental information
Documentation centres
ISSN
1887-2417
Related items
Showing items related by title, author, creator and subject.
Morán Torres, Enoc Francisco

(

Universidade da Coruña

,

2015

)

[RESUMEN] El derecho humano a un medio ambiente sano, precisa de una nueva conceptualización ala luz de la democracia participativa que le permita vincular los instrumentos del derecho ambientalcon las figuras de la ...

Seco Méndez, Claudia

(

2018

)

[Resumen] El objetivo de la presente investigación es definir y analizar la conciencia ambiental de la sociedad española. Para ello, se ha empleado una metodología mixta, comenzando con un análisis cuantitativo de la base ...

Caamaño Romero, Tamara

(

2016

)

[Resumo] A través do presente traballo lévase a cabo unha labor de investigación xurídica relativa á avaliación de impacto ambiental, de xeito pormenorizado sobre os proxectos sometidos á avaliación de impacto ambiental ...