Finite volume solvers and moving least-squares approximations for the compressible Navier-Stokes equations on unstructured grids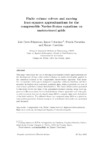 View/Open
Title
Finite volume solvers and moving least-squares approximations for the compressible Navier-Stokes equations on unstructured grids
Author(s)
Date
2005
Abstract
[Abstract] This paper introduces the use of Moving Least-Squares (MLS) approximations for the development of high order upwind schemes on unstructured grids, applied to the numerical solution of the compressible Navier-Stokes equations. This meshfree interpolation technique is designed to reproduce arbitrary functions and their succesive derivatives from scattered, pointwise data, which is precisely the case of unstructured-grid finite volume discretizations. The Navier-Stokes solver presented in this study follows the ideas of the generalized Godunov scheme, using Roe's approximate Riemann solver for the inviscid fluxes. Linear, quadratic and cubic polynomial reconstructions are developed using MLS to compute high order derivatives of the field variables. The diffusive fluxes are computed using MLS as a global reconstruction procedure. Various examples of inviscid and viscous flow are presented and discussed.
Keywords
Compressible flows
Finite volume method
High-resolution methods
High-order methods
Moving least-squares
Unstructured grids
Description
Enviado a "Computer methods in applied mechanics and engineering"
Editor version