Time management: What do university students think about it?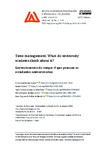 View/Open

Except where otherwise noted, this item's license is described as Atribución-CompartirIgual 4.0 Internacional (CC BY-SA 4.0)
Collections
Title
Time management: What do university students think about it?
Alternative Title(s)
Gerenciamento de tempo: O que pensam os estudantes universitários
Author(s)
Date
2023-07-01
Citation
Soares, A. B., Ribeiro, R., Alves, P. R. S. da S., Jardim, M. E. de M., & de Medeiros, C. A. C. (2023). Gestión del tiempo: ¿Qué opina el alumnado universitario?. Revista de Estudios e Investigación en Psicología y Educación, 10(1), 1-14. https://doi.org/10.17979/reipe.2023.10.1.9468
Abstract
[Abstract] Time management practices allow users to meet their needs and pursue their goals within set deadlines. At university, time management is an important factor in promoting academic adaptation and good mental health. This article is based on a time management workshop for higher education students conducted over two years. A total of 17 students from public (n = 14) and private (n = 3) universities participated in the workshop, with a mean age of 28.4 years (SD = 15.3), of whom 14 were women. A Descending Hierarchical Classification (CHD) was employed using the software Iramuteq to analyze the participants' conceptions about different time management strategies (both previously adopted and newly acquired), the difficulties involved in using them, and the lack of opportunities to implement them. The results revealed difficulties in relation to meeting deadlines for academic tasks, avoiding distractions, procrastination and maintaining study-life balance. The findings highlight the importance of providing students with spaces to accommodate their time management needs during their time at university.
[Resumo] As práticas de gerenciamento do tempo permitem que os usuários satisfaçam as suas demandas e prossigam os seus objetivos dentro dos prazos estabelecidos. Na universidade, a gestão do tempo é um fator importante para promover a adaptação académica e a boa saúde mental. Este artigo baseia-se num seminário de gestão do tempo para estudantes do ensino superior realizado ao longo de dois anos. Participaram 17 estudantes de universidades públicas (n = 14) e privadas (n = 3), com uma média de idades de 28.4 anos (DP = 15.3), dos quais 14 eram mulheres. O estudo realizou uma Classificação Hierárquica Descendente (CHD), utilizando o software Iramuteq, das concepções dos participantes sobre as diferentes estratégias de gestão do tempo (existentes e recém-adquiridas), as dificuldades em utilizá-las e a falta de oportunidades para implementá-las. Os resultados revelaram dificuldades em relação ao cumprimento dos prazos das tarefas académicas, ao evitar distrações, àprocrastinação e como manter um equilíbrio entre o estudo e a vida pessoal. Os resultados evidenciam a importância de proporcionar aos estudantes espaços para acomodar as suas necessidades de gestão do tempo durante o seu tempo na universidade.
Keywords
Time management
Academic achievement
Mental health
College students
Higher education
Gestão do tempo
Sucesso académico
Saúde mental
Estudantes universitários
Ensino superior
Editor version
Rights
Atribución-CompartirIgual 4.0 Internacional (CC BY-SA 4.0)
ISSN
2386 - 7418