A poesia oral improvisada como prática política antagonista: notas sobre a reinscrição contemporânea da regueifa no campo cultural galego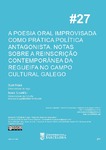 View/Open

Except where otherwise noted, this item's license is described as Atribución-NoComercial-SinDerivadas 4.0 Internacional
Title
A poesia oral improvisada como prática política antagonista: notas sobre a reinscrição contemporânea da regueifa no campo cultural galego
Author(s)
Date
2022-07-30
Citation
Naia, X., & Lourido, I. (2022). La poesía oral improvisada como práctica política antagónica. Apuntes sobre la reinscripción contemporánea de la regueifa en el campo cultural gallego: Notas sobre a reinscrição contemporânea da regueifa no campo cultural galego. 452ºF. Revista de teoría de la literatura y literatura comparada, (27), 277–296. https://doi.org/10.1344/452f.2022.27.15
Abstract
[Resumo] O artigo desenvolve uma aproximação panorâmica da poesia oral improvisada em língua galega e dos seus usos e funções sociais na atualidade. Inclui uma revisão dos quadros teóricos e metodológicos habitualmente aplicados à poesia oral improvisada, ao tempo que promove a inclusão de metodologias transdisciplinares para abordar estas práticas nas suas dimensões estética, sociocultural e política. Reconstrói a história social do género emblemático da poesia improvisada galega, a regueifa, que ao longo do século XX foi perdendo a sua função no contexto de rituais epitalâmicos para se tornar num espetáculo artístico sujeito tanto à apropriação folclórica como à reivindicação sociocultural. Na parte final, são estudados os usos da regueifa no contexto dos movimentos sociais críticos. São tratadas de forma específica as práticas desenvolvidas pelo feminismo para a reinscrição da regueifa num programa de intervenção social crítico com a hegemonia patriarcal.
[Resum] L'article desenvolupa una aproximació panoràmica a la poesia oral improvisada en llengua gallega i els seus usos i funcions socials actuals. Inclou una revisió dels marcs teòrics i metodològics comunament aplicats a la poesia oral improvisada, al mateix temps que promou la inclusió de metodologies transdisciplinars per a abordar aquestes pràctiques en les seves dimensions estètiques, socioculturals i polítiques. Reconstrueixo la història social del gènere emblemàtic de la poesia improvisada gallega, la regueifa, que al llarg del segle XX va anar perdent la seva funció en el context dels rituals epitalàmics per a convertir-se en un espectacle artístic associat tant a l'apropiació folklòrica com a la reivindicació sociocultural. A la part final s'estudien els usos de la regueifa en el context dels moviments socials crítics. S'aborden específicament les pràctiques desenvolupades pel feminisme per tal de reinscriure la regueifa en un programa d'intervenció social crítica amb l'hegemonia patriarcal.
[Resumen] El artículo desarrolla un acercamiento panorámico a la poesía oral improvisada en lengua gallega y sus usos y funciones sociales en la actualidad. Incluye una revisión de los marcos teóricos y metodológicos habitualmente aplicados a la poesía oral improvisada, al tiempo que promueve la inclusión de metodologías transdisciplinarias para estudiar estas prácticas en sus dimensiones estéticas, socioculturales y políticas. Reconstruye la historia social del género emblemático de la poesía improvisada gallega, la regueifa, que a lo largo del siglo XX perdió su función en el contexto de los rituales epitalámicos para convertirse en un espectáculo artístico sujeto tanto a la apropiación folclórica como a las demandas socioculturales. En la última parte se estudian los usos de la regueifa en el contexto de los movimientos sociales críticos. De manera específica, se abordan las prácticas desarrolladas por el feminismo para la reinserción de la regueifa en un programa de intervención social crítica contra la hegemonía patriarcal.
[Abstract] The article develops a panoramic approach to improvised oral poetry in Galician language and its uses and social functions today. It includes a review of the theoretical and methodological frameworks usually applied to improvised oral poetry, while promoting the inclusion of transdisciplinary methodologies to study these practices in their aesthetic, sociocultural and political dimensions. It reconstructs the social history of the emblematic genre of Galician improvised poetry, the regueifa, which throughout the 20th century lost its function in the context of epithalamic rituals to become an artistic spectacle subject to both folkloric appropriation and sociocultural demands. In the last part, the uses of regueifa in the context of critical social movements are studied. The practices developed by feminism for the reinsertion of regueifa in a critical social intervention program against patriarchal hegemony are dealt with in a specific way.
Keywords
Regueifa
Poesia oral
Política
Espaço público
Feminismo
Feminisme
Espai públic
Espacio público
Oral poetry
Politics
Public space
Feminism
Editor version
Rights
Atribución-NoComercial-SinDerivadas 4.0 Internacional
ISSN
2013-3294