Contribución a la mejora de la competitividad en la industria textil: ODS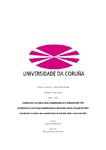 View/Open
Collections
Title
Contribución a la mejora de la competitividad en la industria textil: ODS
Alternative Title(s)
Contribution to improving competitiveness in the textile industry through the SDGs
Contribución á mellora da competitividade da industria téxtil a través dos ODS

Author(s)
Directors
Escourido-Calvo, Manuel
Date
2022
Center/Dept./Entity
Universidade da Coruña. Facultade de Humanidades e Documentación
Description
Traballo fin de grao (UDC.FHD). Xestión Industrial da Moda. Curso 2021/2022
Abstract
[Resumen] La Responsabilidad Social Corporativa se ha ido implantando en el seno de las empresas y cogiendo mayor fuerza hasta convertirse en una parte esencial del desarrollo sostenible. Este trabajo, pretende analizar las medidas que se llevan a cabo teniendo en cuenta este desarrollo, y como los Objetivos de Desarrollo Sostenible (en adelante, ODS), adoptados por Naciones Unidas en 2015, afectan a la industria textil y a su cadena de valor. Por ello, describiremos motivos y ejemplos para alinear las estrategias corporativas de las empresas del sector de la moda junto a medidas sostenibles, además de analizar cuáles son las problemáticas que más le preocupa a al consumidor y por lo tanto, las que valoran en mayor medida.
[Resumo] A Responsabilidade Social Corporativa implantouse nas empresas e colleu forza para converterse nunha parte esencial do desenvolvemento sostible. Este traballo pretende analizar as medidas que se levan a cabo tendo en conta este desenvolvemento, e como afectan á industria téxtil e á súa cadea de valor os Obxectivos de Desenvolvemento Sostible (en diante, ODS), adoptados polas Nacións Unidas en 2015. Por iso, describiremos razóns e exemplos para aliñar as estratexias corporativas das empresas do sector da moda con medidas sustentables, ademais de analizar cales son os problemas que máis preocupan ao consumidor e, polo tanto, os que máis valoran.
[Abstract] Corporate Social Responsibility has been implemented within companies and has become an essential part of sustainable development. This document aims to analyze the measures that are being carried out with regard to this development, and how the Sustainable Development Goals (hereinafter SDGs), adopted by the United Nations in 2015, affect the textile industry and its value chain. Therefore, we will describe reasons and examples for aligning the corporate strategies of companies in the fashion industry with sustainable measures, as well as analysing which issues are of most concern to consumers and therefore the ones they value the most.
Keywords
Objetivos de Desarrollo Sostenible (ODS)
industria textil
sostenibilidad
innovación en modelos de negocio
greenwashing
economía circular
trazabilidad
Fast Fashion
Sustainable Development Goals (SDGs)
textile industry
sustainability
innovation in business models
circular economy
traceability
Obxectivos de Desenvolvemento Sostible (ODS)
industria téxtil
sustentabilidade
lavado verde
trazabilidade
moda rápida
Rights
Os titulares dos dereitos de propiedade intelectual autorizan a visualización do contido deste traballo a través de Internet, así como a súa reprodución, gravación en soporte informático ou impresión para o seu uso privado e/ou con fins de estudo e de investigación. En ningún caso se permite o uso lucrativo deste documento. Estes dereitos afectan tanto ó resumo do traballo como o seu contido. Los titulares de los derechos de propiedad intelectual autorizan la visualización del contenido de este trabajo a través de Internet, así como su reproducción, grabación en soporte informático o impresión para su uso privado o con fines de investigación. En ningún caso se permite el uso lucrativo de este documento. Estos derechos afectan tanto al resumen del trabajo como a su contenido.