Radical Social Innovations and the Spatialities of Grassroots Activism: Navigating Pathways for Tackling Inequality and Reinventing the Commons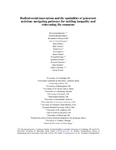 View/Open

Except where otherwise noted, this item's license is described as Licencia Creative Commons Attribution-NonCommercial-NoDerivatives 4.0 International (CC BY-NC-ND 4.0)
Title
Radical Social Innovations and the Spatialities of Grassroots Activism: Navigating Pathways for Tackling Inequality and Reinventing the Commons
Author(s)
Date
2022
Citation
Apostolopoulou, E.; Bormpoudakis, D.; Chatzipavlidis, A.; Cortés Vázquez, J.; Florea, I.; Gearey, M.; Levy, J.; Loginova, J.; Ordner, J.; Partridge, T.; Pizzaro, A.; Rhoades, H.; Symons, K.; Veríssimo, C. and Wahby, N. (2022). Radical social innovations and the spatialities of grassroots activism: navigating pathways for tackling inequality and reinventing the commons. Journal of Political Ecology, 29(1), 144–188. DOI: https://doi.org/10.2458/jpe.2292
Abstract
[Abstract] In this article, by drawing on empirical evidence from twelve case studies from nine countries from across the Global South and North, we ask how radical grassroots social innovations that are part of social movements and struggles can offer pathways for tackling socio-spatial and socio-environmental inequality and for reinventing the commons. We define radical grassroots social innovations as a set of practices initiated by formal or informal community-led initiatives or/and social movements which aim to generate novel, democratic, socially, spatially and environmentally just solutions to address social needs that are otherwise ignored or marginalised. To address our research questions, we draw on the work of Cindi Katz to explore how grassroots innovations relate to practices of resilience, reworking and resistance. We identify possibilities and limitations as well as patterns of spatial practices and pathways of re-scaling and radical praxis, uncovering broadly-shared resemblances across different places. Through this analysis we aim to make a twofold contribution to political ecology and human geography scholarship on grassroots radical activism, social innovation and the spatialities of resistance. First, to reveal the connections between social-environmental struggles, emerging grassroots innovations and broader structural factors that cause, enable or limit them. Second, to explore how grassroots radical innovations stemming from place-based community struggles can relate to resistance practices that would not only successfully oppose inequality and the withering of the commons in the short-term, but would also open long-term pathways to alternative modes of social organization, and a new commons, based on social needs and social rights that are currently unaddressed.
[Résumé] Dans cet article, nous utilisons des preuves empiriques provenant de douze études de cas dans neuf pays du Sud et du Nord, pour demander comment les innovations sociales radicales de la base qui font partie des mouvements et des luttes sociales peuvent offrir des voies pour s'attaquer aux inégalités socio-spatiales et socio-environnementales, et réinventer les biens communs. Les innovations sociales radicales à la base sont des pratiques initiées par des initiatives formelles ou informelles dirigées par des communautés et/ou des mouvements sociaux, visant à générer des solutions nouvelles, démocratiques et justes sur le plan social, spatial et environnemental. Elles répondent à des besoins sociaux qui sont autrement ignorés ou marginalisés. Nous nous appuyons sur le travail de Cindi Katz pour explorer comment les innovations de la base sont liées aux pratiques de résilience, de remaniement et de résistance. Nous identifions leurs possibilités et leurs limites, ainsi que leurs modèles de pratiques spatiales et leurs voies de re-scaling et de praxis radicale. Nous découvrons des ressemblances largement partagées entre différents lieux. Notre objectif est d'apporter une double contribution à la recherche en « political ecology » et en géographie humaine sur le militantisme radical de base, l'innovation sociale et les spatialités de la résistance. Premièrement, révéler les liens entre les luttes socio-environnementales, les innovations populaires émergentes et les facteurs structurels plus larges qui les causent, les permettent ou les limitent. Deuxièmement, explorer comment les innovations radicales de la base, issues des luttes communautaires locales, alimentent la résistance pour s'opposer à l'inégalité et à l'affaiblissement des biens communs à court terme. Enfin, il s'agit de voir comment des voies à long terme peuvent être ouvertes à d'autres modes d'organisation sociale et à un nouveau bien commun, fondé sur des besoins sociaux et des droits sociaux qui ne sont actuellement pas pris en compte.
[Resumen] En este artículo, a través del estudio de 12 casos distintos de 9 países diferentes tanto del norte como del sur global, indagamos en cómo las innovaciones sociales, de base y radicales, que forman parte de distintos movimientos y disputas sociales nos ofrecen vías para hacer frente a las desigualdades socio-espaciales y socio-ambientales y para reinventar los comunes. Definimos innovaciones sociales, de base y radicales, como un conjunto de prácticas puestas en marcha de modo formal y/o informal por comunidades locales y movimientos sociales, con el propósito de generar soluciones novedosas, democráticas y social, espacial y ambientalmente más justas, que permitan abordar determinadas necesidades sociales, por lo general ignoradas o marginalizadas. Para alcanzar este objetivo, nos apoyamos en el trabajo de Cindi Katz, de cara a explorar cómo las innovaciones de base se vinculan con prácticas de resiliencia, readaptación y resistencia. Identificamos posibilidades y limitaciones, así como patrones de prácticas espaciales, que apuntan a similitudes ampliamente compartidas en distintos lugares. A través de este análisis, perseguimos hacer una doble contribución a la literatura sobre activismos radical y de base, innovaciones sociales y la conexión entre espacio y resistencia dentro del campo de la ecología política y la geografía humana. Primero, buscamos mostrar la conexión entre conflictos socio-ambientales, innovaciones de base novedosas y los factores estructurales que las causan, permiten o limitan. Segundo, perseguimos explorar cómo aquellas innovaciones radicales de base, que surgen de conflictos enraizados en comunidades locales, se relacionan con prácticas de resistencia que no sólo tienen éxito haciendo frente a la desigualdad y la merma de los comunes a corto plazo, sino que también abren vías a largo plazo para explorar modelos alternativos de organización social y nuevos comunes basados en necesidades y derechos sociales actualmente relegados y silenciados.
Keywords
Social innovation
Grassroots activism
Commons
Environmental justice
Social justice
Social-environmental movements
Resistance
Reworking
Resilience
Innovation sociale
Activisme de base
Biens communs
Justice environnementale
Justice sociale
Mouvements sociaux-environnementaux
Résistance
Remaniement
Résilience
Innovación social
Activismo de base
Comunes
Justicia ambiental
Justicia social
Movimientos socio-ambientales
Resistencia
Readaptación
Resiliencia
Editor version
Rights
Licencia Creative Commons Attribution-NonCommercial-NoDerivatives 4.0 International (CC BY-NC-ND 4.0)
ISSN
1073-0451
Related items
Showing items related by title, author, creator and subject.
Domínguez-Amorós, Màrius

;

Suárez-Grimalt, Laura

(

Instituto de Estudos Sociais e Políticos (IESP), Universidade do Estado do Rio de Janeiro (UERJ)

,

2022

)

[Resumen] El presente trabajo busca analizar el papel que los activos derivados de la participación de la población migrante de origen brasileño en redes sociales desempeñan a la hora de definir sus estrategias de movilidad ...

Barbeito Torrente, Silvia

(

2016-09

)

[Resumen] Introducción: La familia es un elemento clave en el proceso de recuperación en personas con trastorno mental grave, siendo proveedora de información útil para la recuperación de la persona y proporcionando apoyo ...

Modroño Alborés, Paula

(

2019

)

[Resumen] El presente trabajo pretende realizar un análisis documental acerca de las monedas sociales dentro del contexto español, profundizando en la iniciativa de los Bancos del Tiempo en la ciudad de Vigo. En este último ...