El impacto de las monedas sociales en la economía local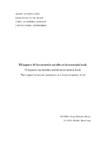 Title
El impacto de las monedas sociales en la economía local
Alternative Title(s)
O impacto das moedas sociais na economía local
The impact of social currencies at a local economic level

Author(s)
Directors
Massó, Matilde
Date
2019
Center/Dept./Entity
Universidade da Coruña. Facultade de Socioloxía
Description
Traballo fin de grao (UDC.SOC). Socioloxía. Curso 2018/2019
Abstract
[Resumen] El presente trabajo pretende realizar un análisis documental acerca de las monedas sociales dentro del contexto español, profundizando en la iniciativa de los Bancos del Tiempo en la ciudad de Vigo. En este último caso, se plantea el análisis de la repercusión social de los mismos, es decir, los efectos que tiene la iniciativa sobre la comunidad de referencia tanto a nivel social como individual. Por otro lado, la metodología empleada para el estudio de los Bancos del Tiempo es de carácter cualitativo, en concreto, se ha utilizado la técnica de la entrevista semi-estructurada, orientada a profesionales y usuarios.
[Resumo] O presente traballo pretende realizar unha análise documental acerca das moedas sociais dentro do contexto español, profundando na iniciativa dos Bancos do Tempo na cidade de Vigo. Neste último caso, proponse o análise da repercusión social dos mesmos, é dicir, os efectos que ten a iniciativa sobre a comunidade de referencia tanto a nivel social como individual. Por outra banda, a metodoloxía empregada para o estudio dos Bancos do Tempo é de carácter cualitativo, en concreto, empregouse a técnica da entrevista semi-estruturada, orientada a profesionais e usuarios.
[Abstract] This work aims to carry out a documentary analysis on social currencies within Spain, delving into Time Banking in the city of Vigo. In the latter case, the analysis of the social impact of the same, that is to say, the effects that the initiative has on the community of reference both at a social and individual level. On the other hand, the methodology used for the study of Time Banking is a qualitative methodology; in particular, we have used the semi-structured interview technique, it oriented towards professionals and users.
Keywords
Moneda social
Bancos del tiempo
Cohesión social
Modelos económicos alternativos
Economía social
Moeda social
Bancos do tempo
Social currencies
Time banking
Social cohesion
Alternative economic model
Social economy
Rights
Atribución-NoComercial 3.0 España
Related items
Showing items related by title, author, creator and subject.
Domínguez-Amorós, Màrius

;

Suárez-Grimalt, Laura

(

Instituto de Estudos Sociais e Políticos (IESP), Universidade do Estado do Rio de Janeiro (UERJ)

,

2022

)

[Resumen] El presente trabajo busca analizar el papel que los activos derivados de la participación de la población migrante de origen brasileño en redes sociales desempeñan a la hora de definir sus estrategias de movilidad ...

Barbeito Torrente, Silvia

(

2016-09

)

[Resumen] Introducción: La familia es un elemento clave en el proceso de recuperación en personas con trastorno mental grave, siendo proveedora de información útil para la recuperación de la persona y proporcionando apoyo ...

Apostolopoulou, Elia

;

Bormpoudakis, Dimitris

;

Chatzipavlidis, Alexandros

;

Cortés Vázquez, José Antonio

;

Florea, Ioana

;

Gearey, Mary

;

Levy, Julyan

;

Loginova, Julia

;

Ordner, James

;

Partridge, Tristan

;

Pizarro, Alejandra

;

Rhoades, Hannibal

;

Symons, Kate

;

Veríssimo, Céline

;

Wahby, Noura

(

Open Research Online - ORO

,

2022

)

[Abstract] In this article, by drawing on empirical evidence from twelve case studies from nine countries from across the Global South and North, we ask how radical grassroots social innovations that are part of social ...