Salud mental y apoyo familiar: exploración de la percepción de personas usuarias de un centro de rehabilitación psicosocial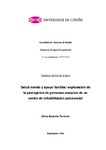 Collections
Title
Salud mental y apoyo familiar: exploración de la percepción de personas usuarias de un centro de rehabilitación psicosocial
Author(s)
Directors
Díaz Romero, Paula
Date
2016-09
Center/Dept./Entity
Universidade da Coruña. Facultade de Ciencias da Saúde
Description
Traballo fin de grao (UDC.FCS). Terapia ocupacional. Curso 2015/2016.
Abstract
[Resumen] Introducción: La familia es un elemento clave en el proceso de recuperación en personas con trastorno mental grave, siendo proveedora de información útil para la recuperación de la persona y proporcionando apoyo y continuidad en todo el proceso. Dada la importancia del apoyo social, resulta necesario conocer la percepción que tienen las personas con problemas de salud mental acerca de su apoyo familiar y la influencia del mismo en su desempeño ocupacional, para poder mejorar el proceso de intervención desde terapia ocupacional, ya que los terapeutas ocupacionales trabajan con las personas y las comunidades para mejorar su capacidad de participar en las ocupaciones que quieren, necesitan, o se espera que hagan, o mediante la modificación de la ocupación o el medio ambiente para apoyar mejor su compromiso ocupacional. Objetivos: El objetivo general de este estudio es explorar la percepción que tienen las personas con problemas graves de salud mental acerca de su apoyo familiar y la influencia en su desempeño ocupacional. Metodología: La metodología utilizada es de tipo cualitativa desde un paradigma fenomenológico. Los informantes serán personas con disfunción en la salud mental y profesionales pertenecientes a una asociación situada en la provincia de A Coruña. La recogida de los datos se realizará mediante una entrevista semiestructurada individual.
[Abstract] Background: The family is a key element in the recovery process in people with severe mental illness, still providing useful information for the recovery of the person and providing support and continuity throughout the process. Given the importance of social support, it is necessary to know the perception that people with mental health problems have about their family support and influence of it on their occupational performance, to improve the process of intervention from occupational therapy, because the occupational therapists work with individuals and communities to improve their ability to engage in the occupations that they want, need, or are expected to do, or by modifying the occupation or the environment to get better support their occupational commitment . Objectives: The main objective of this study is to explore the perception that people with serious mental health problems about their family support and influence in their occupational performance. Methodology: The methodology used is qualitative type from a phenome- nological paradigm. Informants will be people with mental health dysfunc- tion and professionals belonging to an association located in the province of A Coruña. The data collection will be made by an individual semi- structured interview.
[Resumo] Introducción: A familia é un elemento clave no proceso de recuperación en persoas con enfermidade mental grave, sendo proveedora de información útil para a recuperación da persoa e prestando apoio e continuidade ao longo de todo o proceso. Dada a importancia do apoio social, é necesario coñecer a percepción das persoas con problemas de saúde mental do seu apoio familiar e a influenza del no seu desmpeño ocupacional, para mellorar o proceso de intervención da terapia ocuapcional, posto que os terapeutas ocupacionais traballan cos individuos e as comunidades para mellorar a súa capacidade de se involucrar en ocupacións que eles queren, teñen, ou se espera que fagan, ou modificando ocupacións ou o ambiente para apoiar o seu compromiso ocupacional. Obxectivos: O obxectivo deste estudo é explorar a percepción que as persoas con graves problemas de saúde mental teñen do seu apoio familiar e a influenza sobre seu desempeño ocupacional. Metodoloxía: A metodoloxía utilizada é do tipo cualitativa dende un paradigma fenomenolóxico. Os informantes serán persoas con disfunción na saúde mental e profesionais pertencentes a unha asociación situada na provincia de A Coruña. A obtención de datos farase mediante unha entrevista semiestruturada individual.
Keywords
Terapia ocupacional
Esquizofrenia
Trastorno mental grave
Apoyo familiar
Apoyo social
Redes sociales
Participación social
Recuperación
Occupational therapy
Schizophrenia
Severe mental disorder
Family support
Social support
Social networks
Social participation
Recovery
Apoio familiar
Apoio social
Redes sociais
Rights
Os titulares dos dereitos de propiedade intelectual autorizan a visualización do contido deste traballo a través de Internet, así como a súa reproducción, gravación en soporte informático ou impresión para o seu uso privado e/ou con fins de estudo e de investigación. En nengún caso se permite o uso lucrativo deste documento. Estos dereitos afectan tanto ó resumo do traballo como o seu contido Los titulares de los derechos de propiedad intelectual autorizan la visualización del contenido de este trabajo a través de Internet, así como su repoducción, grabación en soporte informático o impresión para su uso privado o con fines de investigación. En ningún caso se permite el uso lucrativo de este documento. Estos derechos afectan tanto al resumen del trabajo como a su contenido
Related items
Showing items related by title, author, creator and subject.
Domínguez-Amorós, Màrius

;

Suárez-Grimalt, Laura

(

Instituto de Estudos Sociais e Políticos (IESP), Universidade do Estado do Rio de Janeiro (UERJ)

,

2022

)

[Resumen] El presente trabajo busca analizar el papel que los activos derivados de la participación de la población migrante de origen brasileño en redes sociales desempeñan a la hora de definir sus estrategias de movilidad ...

Modroño Alborés, Paula

(

2019

)

[Resumen] El presente trabajo pretende realizar un análisis documental acerca de las monedas sociales dentro del contexto español, profundizando en la iniciativa de los Bancos del Tiempo en la ciudad de Vigo. En este último ...

Apostolopoulou, Elia

;

Bormpoudakis, Dimitris

;

Chatzipavlidis, Alexandros

;

Cortés Vázquez, José Antonio

;

Florea, Ioana

;

Gearey, Mary

;

Levy, Julyan

;

Loginova, Julia

;

Ordner, James

;

Partridge, Tristan

;

Pizarro, Alejandra

;

Rhoades, Hannibal

;

Symons, Kate

;

Veríssimo, Céline

;

Wahby, Noura

(

Open Research Online - ORO

,

2022

)

[Abstract] In this article, by drawing on empirical evidence from twelve case studies from nine countries from across the Global South and North, we ask how radical grassroots social innovations that are part of social ...