Men and Pornography: Illusions, Delusions, and the Struggle for Intimacy in Patriarchy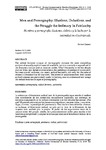 View/Open

Except where otherwise noted, this item's license is described as Atribución-NoComercial-CompartirIgual 4.0 Internacional (CC BY-NC-SA 4.0)
Collections
Title
Men and Pornography: Illusions, Delusions, and the Struggle for Intimacy in Patriarchy
Alternative Title(s)
Hombres y pornografía: ilusiones, delirios y la lucha por la intimidad en el patriarcado
Author(s)
Date
2021-12-31
Citation
Jensen, R. (2021). Men and Pornography: Illusions, Delusions, and the Struggle for Intimacy in Patriarchy. Atlánticas. Revista Internacional de Estudios Feministas, 6(1), 15-29. https://doi.org/10.17979/arief.2021.6.1.7129
Abstract
[Abstract] The radical feminist critique of pornography remains the most compelling analysis of sexually explicit material available, yet it is routinely marginalized in the dominant culture and in feminist circles. Why? Patriarchy is woven deeply into our lives, and denial or avoidance of the pathology of patriarchy is common. But men should embrace, not reject, radical feminism, not only for the sake of women's liberation but for our own. The power of arguments from both justice and self-interest are particularly useful in helping men to understand and accept the radical feminist critique of pornography.
[Resumen] La crítica que el feminismo radical hace de la pornografía sigue siendo el análisis más convincente de los contenidos sexualmente explícitos, sin embargo, se continúa marginando en la cultura dominante y en los círculos feministas. ¿Por qué? El patriarcado está profundamente arraigado en nuestras vidas, y es común negar, o evitar, la patología del patriarcado. Pero los hombres deberían abrazar, no rechazar, el feminismo radical, no solo por el bien de la liberación de las mujeres sino también por la propia. El poder de los argumentos tanto de la justicia como del propio interés, son particularmente útiles para ayudar a los hombres a comprender y aceptar la crítica que realizar el feminismo radical de la pornografía.
Keywords
Pornography
Radical feminist
Patriarchy
Pornografía
Feminismo radical
Patriarcado
Description
This article is part of the monograph entitled 'Pornography: A Sexual Geography of Power'.
Editor version
Rights
Atribución-NoComercial-CompartirIgual 4.0 Internacional (CC BY-NC-SA 4.0)
ISSN
2530-2736