Creación de laboratorios virtuales para asignaturas de control con Factory I/O® y Simulink®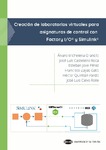 View/Open

Except where otherwise noted, this item's license is described as Atribución-NoComercial-SinObraDerivada 4.0 Internacional (CC BY-NC-ND 4.0)
Title
Creación de laboratorios virtuales para asignaturas de control con Factory I/O® y Simulink®
Author(s)
Date
2022
Citation
MICHELENA, A., CASTELEIRO-ROCA, J.L., JOVE, E., ZAYAS-GATO, F., QUINTIÁN, H., CALVO-ROLLE, J.L. (2022). Creación de laboratorios virtuales para asignaturas de control con Factory I/O® y Simulink®. A Coruña: Universidade da Coruña, Servizo de Publicacións. ISBN: 978-84-9749-837-1. DOI: https://doi.org/10.17979/spudc.9788497498371
Abstract
[Resumen] En el contexto actual se hace necesaria la adaptacion de la planificacion educativa a un nuevo escenario. Esto conlleva un gran desafio para la comunidad educativa global dado que en muchas ocasiones las practicas presenciales de laboratorio en la educacion superior no pueden llegar a todo el alumnado. Como alternativa surge la creacion de escenarios realistas virtuales mediante el uso de aplicaciones software. En el caso concreto de asignaturas relacionadas con automatica y control, estos escenarios se pueden lograr mediante el uso de herramientas como Factory I/O, que gracias al empleo del programa KEPServerEx, se puede interconectar con MatLab/Simulink. En este documento se explica como configurar estos programas para implementar una planta de laboratorio virtual para realizar practicas de control, con unas caracteristicas practicamente iguales a plantas de laboratorio reales.
[Abstract] In the current context, it is necessary to adapt educational planning to a new scenario. This entails a great challenge for the global educational community given that on many occasions face-to-face laboratory practices in higher education cannot reach all students. As an alternative, the creation of realistic virtual scenarios arises through the use of software applications. In the specific case of subjects related to automation and control, these scenarios can be achieved through the use of tools such as Factory I/O, which, thanks to the use of the KEPServerEx program, can be interconnected with MatLab/Simulink. This document explains how to configure these programs to implement a virtual laboratory plant to carry out control practices, with characteristics that are practically the same as real laboratory plants.
[Resumo] No contexto actual, compre adaptar a planificacion educativa a un novo escenario. Isto supon un gran reto para a comunidade educativa global dado que en moitas ocasions as practicas presenciais de laboratorio no ensino superior non poden chegar a todos os estudantes. Como alternativa, a creacion de escenarios virtuais realistas xorde mediante o uso de aplicacions de software. No caso concreto das materias relacionadas coa automatizacion e o control, estes escenarios podense conseguir mediante o uso de ferramentas como Factory I/O que, grazas ao uso do programa KEPServerEx, poden interconectarse con MatLab/Simulink. Neste documento explicase como configurar estes programas para implantar unha planta de laboratorio virtual para realizar practicas de control, cunhas caracteristicas que son practicamente as mesmas que as plantas de laboratorio reais.
Keywords
Laboratorio virtual
KEPServerEx
MatLab/Simulink
Factory I/O
Enseñanza
Automatización y control
Asignaturas de control
Prácticas de control
Escenarios virtuales realistas
Virtual laboratory
Learning
Automation & control
Control subjects
Control practices
Realistic virtual scenarios
Editor version
Rights
Atribución-NoComercial-SinObraDerivada 4.0 Internacional (CC BY-NC-ND 4.0)
ISBN
978-84-9749-837-1
Related items
Showing items related by title, author, creator and subject.
Aparicio Valdés, Iris

(

2017-07

)

[Resumen] Objetivo: Determinar si la eficacia de las intervenciones fisioterápicas desarrolladas a través de herramientas de realidad virtual es mayor a la de otros programas específicos de fisioterapia empleados en ...

Torres, Alberto

;

Jara, Carlos A.

;

Pomares, Jorge

;

García, Gabriel J.

;

Ramón, José L.

;

Úbeda, Andrés

;

Díaz, Carolina S.

(

Universidade da Coruña, Servizo de Publicacións

,

2019

)

[Resumen] Este artículo describe un nuevo enfoque de los laboratorios para sistemas industriales, concretamente, los laboratorios híbridos, que son una mezcla de laboratorios reales y virtuales. Los laboratorios híbridos ...

Mas Lillo, Lucía

;

Puente, Santiago

;

Torres, Fernando

;

Candelas, Francisco A.

(

Área de Ingeniería de Sistemas y Automática, Universidad de Extremadura

,

2018

)

[Resumen] Este artículo presenta un entorno multiplataforma basado en unity3D para la virtualización de una mano robótica. La razón por la que se usa Unity3D es que, en general los entornos virtuales para las manos robóticas ...