The Use of the L1 in a CLIL Lesson in Secondary Education in Galicia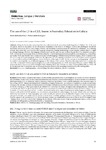 Title
The Use of the L1 in a CLIL Lesson in Secondary Education in Galicia
Date
2020
Citation
Bobadilla-Pérez, M., & Galán-Rodríguez, N. (2020). The use of the L1 in a CLIL lesson in Secondary Education in Galicia. Didáctica. Lengua Y Literatura, 32, 183-193. https://doi.org/10.5209/dida.71796
Abstract
[Abstract] During the last decades, many steps have been taken towards the promotion of plurilingualism in Galicia. One of the most widespread initiatives undertaken in this autonomous community is the creation of bilingual sections and plurilingual educational institutions network in 2010 in Early Stages, Primary and Secondary Education across the autonomous community. As a unifying element, they follow the CLIL (Content and Language Integrated Learning) methodology: a non-linguistic content subject is taught in a foreign language. However, the language of instruction is not the only one used in these lessons; the L1 is sometimes present in CLIL. Despite previous misconceptions on whether using the L1 in foreign language lessons would be counterproductive, research has proved that CLIL may benefit from a certain coexistence of both languages (Méndez García & Pavón Vázquez, 2012). Contrary to the idea of L1 usage due to poor language proficiency, the appearance of both languages in students' and CLIL teachers' speech may point to a deeper understanding of both languages. In our discussion of this topic we will refer the concept of 'translanguaging', which can be useful to understand the use of different languages in the Galician CLIL sections. Therefore, this study endeavours to analyse the use of the L1 (Spanish-Galician) and L2 (English) as a code-switching practice in a CLIL Secondary Education context. Within this framework, Bloom's taxonomy of HOTS (Higher Order Thinking Skills) and LOTS (Lower Order Thinking Skills) (Bloom, 1956) will be accounted in order to assess the type of spoken productions and how code-switching is influenced by said thinking skills. Keywords: CLIL, L1, Translanguaging, Code-switching, Secondary Education , Bloom's Taxonomy.
[Resumen] En las últimas décadas se han tomado muchas medidas para promocionar el plurilingüismo en Galicia. Una de las iniciativas más extendidas llevada a cabo en esta comunidad autónoma es la creación de las secciones bilingües y la red de instituciones educativas plurilingües desde 2010 en Educación Infantil, Educación Primaria y Secundaria. Como elemento unificador, estas secciones siguen la metodología AICLE (Aprendizaje Integrado de Contenidos y Lenguas Extranjeras): una materia no lingüística se enseña en una lengua extranjera. Sin embargo, la lengua de instrucción (L2) es la única utilizada en estas clases; la lengua materna (L1) está a veces presente en AICLE. A pesar de la idea equivocada de que utilizar la L1 en la clase de lengua extranjera sería contraproducente, estudios han demostrado que AICLE se puede beneficiar de una cierta coexistencia de ambas lenguas (Méndez García & Pavón Vázquez, 2012). Contraria a la idea de que el uso de la L1 se debe a un dominio pobre de la lengua, la aparición de ambas lenguas en el habla de los alumnos y del profesor AICLE apuntan a un conocimiento más profundo de ambas lenguas. En nuestro debate sobre este tema, nos referiremos al concepto de 'translanguaging', que puede ser útil para entender el uso de diferentes lenguas en las secciones AICLE gallegas. Por lo tanto, este estudio trata de analizar el uso de la L1 (castellano-gallego) y la L2 como práctica de code-switching en un contexto educativo de secundaria AICLE. Dentro del marco teórico, se considerará la taxonomía de Bloom de HOTS (Higher Order Thinking Skills) y LOTS (Lower Order Thinking Skills) (Bloom, 1956) para evaluar el tipo de producciones orales y como el codeswitching está influenciado por dichas habilidades de pensamiento.
[Résumé] Tout au long des dernières décennies, des mesures pour la promotion du plurilinguisme ont été prises en Galice. L'une des initiatives les plus répandues dans cette communauté autonome est la création de sections bilingues et du réseau d'établissements scolaires plurilingues depuis 2010 pour l'Enseignement Maternel, l'Enseignement Primaire et l'Enseignement Secondaire. En tant qu'élément unificateur, ces sections suivent la méthode EMILE (Enseignement de Matières par Intégration d'une Langue Etrangère): une matière non linguistique est enseignée en langue étrangère. Pourtant, la langue d'instruction n'est pas la seule utilisée lors de ces cours : la L1 est parfois aussi présente dans le cours EMILE. Malgré la fausse idée que l'usage de la L1 en cours de langues étrangères est contre-productif, des études ont montré qu'EMILE peut tirer profit d'une certaine coexistence des deux langues (Méndez García & Pavón Vázquez, 2012). Face à l'idée que l'usage de la L1 est à cause d'une faible maitrise de la langue, l'apparition des deux langues en cours peut montrer une connaissance plus profonde des langues de la part des élèves et du professeur EMILE, ce qui peut être intéressant pour comprendre l'usage des différentes langues dans les sections EMILE en Galice. Par conséquent, cette étude a pour objet d'analyser l'usage de la L1 (espagnol-galicien) et de l'anglais comme pratique de code-switching lors d'un contexte éducatif de l'enseignement secondaire EMILE. Dans le cadre théorique, nous considérons la taxonomie de Bloom de HOTS (Higher Order Thinking Skills) et LOTS (Lower Order Thinking Skills) (Bloom, 1956), pour évaluer le type de productions orales et comme le codeswitching est influencé par lesdites habiletés de pensée.
Keywords
AICLE
L1
Translanguaging
Ccode-switching
Educación secundaria
Taxonomía de Bloom
Editor version
Rights
Atribución 4.0 España