Las transformaciones de Petrarca en cuatro poetas de cancionero: Santillana, Carvajales, Cartagena y Florencia Pinar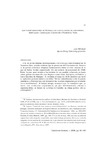 View/Open
Collections
Title
Las transformaciones de Petrarca en cuatro poetas de cancionero: Santillana, Carvajales, Cartagena y Florencia Pinar
Author(s)
Date
2006
Citation
Cancionero General, 2006, 4: 81-108. ISSN: 1695-7733
Abstract
[Resumo] O verdadeiro alcance da presencia de Petrarca como intertexto na poesía lírica do catrocentos hispano fica aínda sen clarexar. Neste traballo examino catro breves poesías de cancioneiro (un soneto, dúas cancións e máis unha esparsa) que dalgún xeito entablan diálogo cun ou máis poemas do Canzoniere. Estes intertextos ofrécennos unha oportunidade inmellorábel de perfilar as intencións e os criterios poéticos dos seus autores. Mediante a súa variada e independente reacción diante do modelo petrarquesco é posíbel deducir que a lírica vulgar de Petrarca tiña unha difusión ben ampla entre os lectores da poesía áulica castelá da segunda mitade do século XV.
[Resumen] El verdadero alcance de la presencia de Petrarca como intertexto en la poesía lírica del cuatrocientos hispano queda aún por aclarar. En este trabajo examino cuatro poesías breves cancioneriles (un soneto, dos canciones y una esparsa) que de alguna manera entablan diálogo con uno o más poemas del Canzoniere. Estos intertextos nos ofrecen una oportunidad inmejorable de perfilar las intenciones y los criterios poéticos de sus autores. Mediante su variada e independiente reacción ante el modelo petrarquesco es posible deducir que la lírica vulgar de Petrarca tenía una difusión bastante amplia entre los lectores de la poesía áulica castellana de la segunda mitad del siglo XV.
[Abstract] The true extent of Petrarchan influence among cancionero poets of the fifteenth century has still to be fully documented. In this article I examine four short lyrics (a sonnet, two canciones, and an esparsa) which contain evidence of a clear and direct debt to one or more poems of the Canzoniere. These intertextual resonances offer valuable insights into the poetic intentions and criteria of their authors. Their varied and independent response to the Petrarchan model suggests that his vernacular lyric was widely known to the readership of Spanish courtly verse in the second half of the fifteenth century.
Keywords
Poesía de cancionero
Petrarca
Intertextualidad
Santillana
Carvajales
Pedro de Cartagena
Florencia Pinar
Cancionero poetry
Petrarch
Intertextuality
Poesía de cancioneiro
ISSN
1695-7733