El papel del turismo deportivo de naturaleza en el desarrollo rural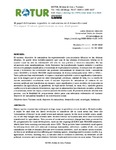 View/Open

Except where otherwise noted, this item's license is described as Atribución-CompartirIgual 4.0 España
Collections
Title
El papel del turismo deportivo de naturaleza en el desarrollo rural
Alternative Title(s)
The impact of nature sports tourism on rural development
Author(s)
Date
2020
Citation
Moscoso-Sánchez, D. (2020). El papel del turismo deportivo de naturaleza en el desarrollo rural. ROTUR. Revista De Ocio Y Turismo, 14(2), 70-87. https://doi.org/10.17979/rotur.2020.14.2.6535
Abstract
[Resumen] El turismo deportivo de naturaleza ha experimentado una inusitada difusión en las últimas décadas. Se puede decir metafóricamente que una de las últimas revoluciones vividas en el mundo rural ha sido la colonización del ocio en sus pueblos y entornos naturales. En las situaciones más paradigmáticas, dicho fenómeno ha transformado lugares aislados y pueblos remotos en paisajes masificados y economías de especulación turística. A este proceso de cambio social y económico ha contribuido las políticas comunitarias de desarrollo rural —iniciativas como LEADER y el fondo FEADER implementadas de forma continuada entre 1991 y 2020—. Tales políticas han reinventando el espacio rural atribuyéndole nuevos significados materiales, que es la imagen que se pone en valor (tranquiliad, aventura, calidad de vida, etc.) a través de nuevas actividades económicas como el turismo deportivo de naturaleza. Al tratarse de un proceso artificial que transforma un espacio, unos significados y unos modelos de economía ya asentados (la agricultura, la ganadería, la explotación forestal, la caza, etc.), también genera conflictos en la articulación de intereses, algo que se plasmará en las relaciones sociales, políticas y económicas, entre los viejos y nuevos actores del medio rural. El presente artículo aborda este proceso, con la finalidad de proporcionar claves para una adecuada ordenación del turismo deportivo de naturaleza basada en la concertación social
[Abstract] Nature sports tourism has undergone a huge surge in growth in recent decades. Metaphorically, it might be said that the latest revolution to transform life in rural areas has been the 'colonisation of leisure' in its small towns and natural spaces. In the most notable cases, small, out of the way villages and retreats have become overrun by tourists and seen their economies transformed by speculation. This process of social and economic change has been promoted by EU programmes for rural development, such as the ongoing LEADER and FEADER initiatives, which have been running continuously since 1991. These policies have reinvented rural spaces by imbuing them with new material meanings (tranquillity, adventure, quality of life, etc.) and capitalising on that re-imaging through new economic activities, such as nature sports tourism. As this is an artificial process affecting pre-existing spaces, meanings and economic models (e.g. agriculture, forestry, hunting, etc.), it can also lead to conflicts of interests, as witnessed in the political, economic and social relations between locals and newcomers in rural areas. This article examines this process with the aim of providing proposals for how to manage and organise nature sports tourism through social dialogue and cooperation.
Keywords
Turismo rural
Deportes de naturaleza
Desarrollo rural
Sociología
Andalucía
Rural tourism
Nature sports
Rural development
Sociology
Andalusia
Editor version
Rights
Atribución-CompartirIgual 4.0 España
ISSN
2695-6357
Related items
Showing items related by title, author, creator and subject.
Pérez-Muñoz, Salvador

;

Domínguez Muñoz, Rafael

;

Barrero Sanz, Diana

;

Hernández Marín, Jesús

(

Universidade da Coruña

,

2019

)

[Resumen] El presente articulo tiene por objetivo analizar los niveles de agilidad y el índice mde Masa Corporal en alumnos de Educación Primaria, en función del tipo de centro educativo rural o urbano, el sexo, la edad ...

Fidalgo Santamariña, José Antonio

(

Universidade da Coruña

,

2008

)

Núñez Bolaño, José Luís

(

2008

)

[Resumen] La finalidad de la Tesis, una vez que se analiza el contexto en que se realizó la planificación de las inversiones de cooperación, es decir, la situación geopolítica y la normativa de aplicación en el ...