Ciencia-Tecnología-Sociedad vs. STEM: ¿evolución, revolución o disyunción?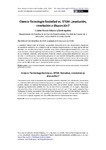 View/Open

Except where otherwise noted, this item's license is described as Atribución-CompartirIgual 4.0 España
Collections
Title
Ciencia-Tecnología-Sociedad vs. STEM: ¿evolución, revolución o disyunción?
Alternative Title(s)
Science-Technology-Society vs. STEM: Evolution, revolution or disjunction?
Author(s)
Date
2020
Citation
Perales Palacios, F., & Aguilera, D. (2020). Ciencia-Tecnología-Sociedad vs. STEM: ¿evolución, revolución o disyunción?. Ápice. Revista De Educación Científica, 4(1), 1-15. https://doi.org/10.17979/arec.2020.4.1.5826
Abstract
[Resumen] El presente trabajo trata de dilucidar las posibles relaciones entre dos movimientos educativos de indudable relevancia en la Didáctica de las Ciencias Experimentales a lo largo de las últimas décadas, uno de ellos más pionero, conocido como Ciencia-Tecnología-Sociedad (CTS) y otro más reciente, Ciencia-Tecnología-Ingeniería-Matemáticas (STEM). Para ello partimos de una concreción de sus orígenes, objetivos, características, líneas de trabajo y propuestas didácticas en cada uno de ellos. A continuación, nuevamente apoyados en una revisión bibliográfica, establecemos las comparaciones entre ambos a partir de los apartados referidos anteriormente. Tal comparación nos lleva a poner en cuestión la vinculación entre ambos y la originalidad de la propuesta STEM, junto con las dificultades que su implementación conlleva.
[Abstract] The present work tries to elucidate the possible relations between two educational movements of unquestionable relevance in Science Education throughout the last decades, one of them more pioneer, known as Science-Technology-Society (STS) and another recent, Science-Technology- Engineering-Mathematics (STEM). For this we start from a concretion of its origins, objectives, characteristics, lines of work and didactic proposals in each of them. Then, again supported by a bibliographic review, we establish the comparisons between the two from the sections referred to above. Such comparison leads us to question the relationship between the two and the originality of the STEM proposal, together with the difficulties that its implementation entails.
Keywords
Ciencia-Tecnología-Sociedad
Educación STEM
Didáctica de las ciencias experimentales
Formación del profesorado
Currículo
Science-Technology-Society
STEM education
Science education
Teacher training
Curriculum
Editor version
Rights
Atribución-CompartirIgual 4.0 España
ISSN
2531-016X