Factores de riesgo de la diabetes Mellitus tipo 2 y el síndrome del pie diabético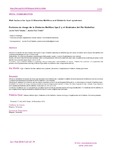 View/Open

Except where otherwise noted, this item's license is described as Atribución-NoComercial-CompartirIgual 4.0 España
Collections
Title
Factores de riesgo de la diabetes Mellitus tipo 2 y el síndrome del pie diabético
Alternative Title(s)
Risk factors for type 2 Diabetes Mellitus and Diabetic foot syndrome
Author(s)
Date
2019
Citation
Farré Valades, J., & Toledo, J. (2019). Factores de riesgo de la Diabetes Mellitus tipo 2 y el Síndrome del Pie Diabético. European Journal of Podiatry / Revista Europea De Podología, 5(2), 63-74. https://doi.org/10.17979/ejpod.2019.5.2.5566
Abstract
[Resumen] Objetivos: identificar los factores de riesgo más incidentes en la Diabetes tipo 2 mediante el análisis de la prevalencia de los diferentes factores de riesgo y analizar la predominancia del Síndrome del Pie diabético a nivel mundial. Metodología: mediante la revisión de datos de carácter cuantitativo a través de una búsqueda bibliográfica, se seleccionaron un total de 20 publicaciones. Resultados: los factores de riesgo con mayor incidencia fueron la hipertensión arterial y el Índice de Masa Corporal elevado. Además, la prevalencia a nivel mundial del Síndrome del Pie diabético oscila entre el 1,2% y el 12,1%. Conclusión: la diabetes tipo 2 es una patología con planes de prevención por presentar factores de riesgo modificables. Y el Síndrome del Pie diabético es una complicación de baja predominancia mundial en relación a otras complicaciones derivadas.
[Abstract] Objective: to identify the most incident risk factors in type 2 Diabetes analyzing the different type risk factors prevalence and to analyze the diabetic foot syndrome predominance in type 2 DM at world. Methodology: by collecting quantitative data through a bibliographic search. A total of 20 publications were selected. Results: risk factors that showed more incidents values were hypertension followed by high body mass index. In addition the worldwide prevalence of the diabetic foot syndrome ranges from 1,2% to 12,1%. Conclusion: Type 2 Diabetes Mellitus is a pathology with prevention plans with modifiable risk factors. Diabetic foot syndrome is a complication that presents a lower predominance showing world level prevalence in relation to other complications derived.
Keywords
Diabetes Mellitus tipo 2
Síndrome del Pie Diabético
Factores de riesgo
Complicaciones de la diabetes
Prevención primaria
Type 2 Diabetes Mellitus
Diabetic foot syndrome
Risk factors
Complications of diabetes
Primary prevention
Editor version
Rights
Atribución-NoComercial-CompartirIgual 4.0 España
ISSN
2445-1835
Related items
Showing items related by title, author, creator and subject.
Castillo Manteiga, Alejandro

(

2018-06

)

[Resumen] Introducción: Actualmente, la sociedad es una entidad ambivalente, pues mientras se incrementan los estilos de vida sedentarios, la obesidad y ciertas enfermedades metabólicas como la diabetes mellitus tipo 2, ...

Moledo Quintáns, Leticia

(

2018-06

)

[Resumen] Introducción: La diabetes mellitus tipo 1 (DM1) es una de las enfermedades crónicas más frecuentes entre los adolescentes. La transición de los pacientes con DM1 desde la Unidad pediátrica de diabetes a la de ...

Priegue Piñeiro, Patricia

(

2017

)

[Abstract] Autoimmune diseases are disorders caused by a malfunction in the immune system. Genetic background, environmental factors and lifestyle habits have been considered as the factors triggering the development of ...