Efectos de una Unidad Didáctica de educación postural en 1º de la Educación Secundaria Obligatoria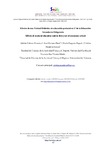 Except where otherwise noted, this item's license is described as Atribución-NoComercial-SinDerivadas 4.0 España
Collections
Title
Efectos de una Unidad Didáctica de educación postural en 1º de la Educación Secundaria Obligatoria
Alternative Title(s)
Effects of postural education unit in first year of secondary school
Author(s)
Date
2020
Citation
Cabrera González, A., Serrano-Durá, J., Fargueta Espert, M., & Monleón García, C. (2019). Efectos de una Unidad Didáctica de educación postural en 1º de la Educación Secundaria Obligatoria. Sportis. Scientific Journal of School Sport, Physical Education and Psychomotricity, 6(1), 43-60. https://doi.org/10.17979/sportis.2020.6.1.5730
Abstract
[Resumen] El objetivo de este estudio fue conocer la prevalencia de dolor lumbar y evaluar los efectos de una unidad didáctica de educación postural sobre los conocimientos teóricos de la salud de la espalda, así como los efectos de la misma sobre la resistencia de la musculatura extensora, inclinadora y flexora del tronco en alumnado de 1º de ESO. Participaron 18 discentes (10 chicos y 8 chicas) de 12.22 ± .43 años de edad de un colegio perteneciente a la Comunidad Valenciana. Se realizó una evaluación inicial (Pretest) de conocimientos teóricos y de aptitudes físicas a través de diversos test de campo. Tras esto, se aplicó el programa de intervención, en el que se desarrolló una unidad didáctica de educación postural compuesta por 8 sesiones, siendo la primera de ellas sobre contenidos teóricos y las 7 restantes prácticas. Tras la aplicación de la unidad didáctica se llevaron a cabo los mismos test (Postest). Los resultados mostraron mejoras estadísticamente significativas tras la aplicación de la unidad didáctica en los conocimientos sobre la salud de la espalda (p ≤ .004) y sobre la resistencia de la musculatura del tronco (p ≤ .001) en los alumnos y alumnas de 1º de ESO. Las mejoras producidas pueden tener implicaciones importantes en la prevención del dolor lumbar en edad escolar.
[Abstract] The main objective of this study is to know the prevalence of lower back pain and to evaluate the effects of a didactic postural education unit on the theoretical knowledge of back health, as well as the effects on the endurance of the extensor, inclining and flexor trunk muscles in students of 1st ESO. 18 students (10 boys and 8 girls) of 12.22 ± .43 years old from a school belonging to the Valencian Community participate. An initial assessment (Pretest) of theoretical knowledge and physical aptitudes is carried out through various field tests. After this, the intervention program is applied, in which a postural education unit composed of 8 sessions was developed, being the first one on theoretical content and the remaining 7 practices. After the application of the postural unit, the same tests (Postest) are carried out. The results show statistically significant improvements after the application of the didactic unit in the knowledge about back health (p ≤ .004) and on the strength of the trunk musculature (p ≤ .001) in students of 1st ESOs. The improvements produced may have important practical implications, since adolescence is a prone age for the increase in lumbar pain and the intervention presented, which is easily applicable, could help prevent the occurrence of chronic low back pain and other complications in the future.
Keywords
Educación física
Educación Secundaria
Dolor lumbar
Educación postural
Physical education
Secondary school
Lumbar pain
Postural education
Editor version
Rights
Atribución-NoComercial-SinDerivadas 4.0 España
ISSN
2386-8333
Related items
Showing items related by title, author, creator and subject.
Dopico Pedre, María

(

Universidade da Coruña

,

2016

)

[Resumen] La preocupación sobre la formación inicial que recibe el alumnado del Grado de Educación Primaria con Mención en Educación Física, conduce a elaborar esta investigación. En ella se pretende conocer y analizar las ...

Touriñán-López, José-Manuel

(

Universidade da Coruña

,

2005

)

Méndez de Valdivia, María José

(

2015

)

[Resumen]Con este trabajo se pretende evaluar el funcionamiento del programa de Bachillerato de Secciones Bilingües en Rumanía, medido a través de la satisfacción de sus usuarios, el alumnado, con el mismo. El estudio ...