El "Entremés de los Romances", entre Cervantes y Góngora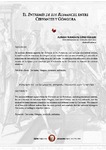 Except where otherwise noted, this item's license is described as Atribución-NoComercial-CompartirIgual 3.0 España
Title
El "Entremés de los Romances", entre Cervantes y Góngora
Alternative Title(s)
Entremés de los romances, between Cervantes and Góngora
Author(s)
Date
2019
Citation
Rodríguez López-Vázquez, A. (2019). El "Entremés de los Romances", entre Cervantes y Góngora. Atalanta 7(2), 221-239.
Abstract
[Resumen] Se analizan distintos aspectos del Entremés de los Romances, que incluyen diez índices léxicos, la reutilización de romances de Góngora, su uso metaficcional en este entremés, y la relación de elementos del entremés con varias obras de Cervantes. Se compara todo esto con la obra de otros autores de la época y se concluye que el entremés es de Cervantes en función de criterios objetivos.
[Abstract] We analyse different aspects from the Entremés de los Romances, including ten lexical indexes, the re-utilisation of romances from Góngora, their metafictional use in this entremés, and the relation between elements present in this entremés and different works by Cervantes. We compare all of this with different authors from the same period, and conclude that the entremés belongs to Cervantes, according to objective criteria.
Keywords
Cervantes
Góngora
Entremés
Atribución
Interlude
Atribution
Rights
Atribución-NoComercial-CompartirIgual 3.0 España
ISSN
2340-1173