Nuevos hábitos de consumo televisivo: retos de la audiencia en diferido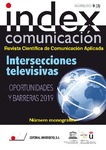 Title
Nuevos hábitos de consumo televisivo: retos de la audiencia en diferido
Alternative Title(s)
New television consumption habits: challenges of the time shifted audience
Date
2019
Citation
González-Neira, A. y Fernández-Martínez, L. M. (2019). Nuevos hábitos de consume televisivo: retos de la audiencia en diferido. index.comunicación, 9(3), 75-92.
Abstract
[Resumen]: La televisión se encuentra en una clara fase de renovación debido a los procesos de convergencia mediática. Los recientes cambios tecnológicos han alterado la definición espaciotemporal del visionado por lo que se hace necesario acercarse a un tipo de consumo que se va afianzando progresivamente: la audiencia en diferido. Esta investigación pone en relación este tipo de audiencia frente a la audiencia lineal o tradicional en el mercado televisivo en España a través de los datos de consumo de 2018. Sigue la línea de trabajos previos, pero con un marco temporal actualizado en el que el consumo televisivo se ha alterado notablemente por la penetración de las plataformas OTT (over the top). Los resultados obtenidos indican que se trata de un visionado creciente en España, con una clara preferencia hacia las series españolas. Existe una clara discordancia entre los espacios con mayor éxito en consumo lineal y en diferido. Estos resultados permiten abordar una reflexión sobre la dificultad de programar para un prime time que se consume fuera del prime time, las razones del incremento de este tipo de consumo o las dificultades que plantean las métricas actuales de audiencia. Palabras clave: televisión; audiencia en diferido; consumo televisivo; formatos; prime time.
[Abstract]: Nowadays, television is in a clear renovation position due to mediatic alignment processes. The recent technological changes have altered the definition of the time-space viewing, so it's being necessary to approach a new type of consumption that today is securing itself progressively: the time shifted audience. This investigation relates to this kind of audience facing the traditional one/spectators in the TV market in Spain, based on the 2008's ratings. It keeps the line of previous studies, but with an updated time frame in which Television consumption has been outstandingly altered by the introduction of the Over-the-top media services (OTT). The results show that it stands as an increasing consumption in Spain, with a clearly visible preference for Spanish series. There is an evident discrepancy between the top-rated shows in the traditional linear TV and the time shifted audience. These results let us deal with a reflection about the complications of programming for a prime-time that is consumed out of prime-time, the reasons for this increase of this type of consumption, or the difficulties suggested by the schedules at present.
Keywords
Televisión
Audiencia en diferido
Consumo televisivo
Formatos
Prime time
Television
Time Shifted Audience
Television Consumption
Formats
Editor version
Rights
Atribución 4.0 España
ISSN
2174-1859