Energy Consumption in Compact Integer Vectors: A Study Case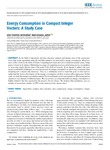 View/Open
Title
Energy Consumption in Compact Integer Vectors: A Study Case
Author(s)
Date
2019-10-25
Citation
J. Fuentes-Sepúlveda and S. Ladra, "Energy Consumption in Compact Integer Vectors: A Study Case," in IEEE Access, vol. 7, pp. 155625-155636, 2019. doi: 10.1109/ACCESS.2019.2949655
Abstract
[Abstract] In the field of algorithms and data structures analysis and design, most of the researchers focus only on the space/time trade-off, and little attention has been paid to energy consumption. Moreover, most of the efforts in the field of Green Computing have been devoted to hardware-related issues, being green software in its infancy. Optimizing the usage of computing resources, minimizing power consumption or increasing battery life are some of the goals of this field of research. As an attempt to address the most recent sustainability challenges, we must incorporate the energy consumption as a first-class constraint when designing new compact data structures. Thus, as a preliminary work to reach that goal, we first need to understand the factors that impact on the energy consumption and their relation with compression. In this work, we study the energy consumption required by several integer vector representations. We execute typical operations over datasets of different nature. We can see that, as commonly believed, energy consumption is highly related to the time required by the process, but not always. We analyze other parameters, such as number of instructions, number of CPU cycles, memory loads, among others.
Keywords
Data structures
Green computing
Optimisation
Power aware computing
Power consumption
Compact integer vectors
Data structures analysis
Compact data structures
Energy consumption
Data structures design
Green computing
Integer vector representations
CPU cycles
Memory loads
Software
Data compression
Indexes
Bioinformatics
Algorithms
Compact data structures
Data compression
Integer vectors
Editor version
Rights
Atribución 3.0 España
ISSN
2169-3536
Related items
Showing items related by title, author, creator and subject.
Pérez-Valcárcel, Juan

;

Muñoz-Vidal, Manuel

;

Freire-Tellado, Manuel J.

;

López-César, Isaac

;

Suárez-Riestra, Félix

(

IJIESR

,

2020

)

Deployable structures can be a good response to disaster situations, where it is necessary to provide services to a displaced population. They can be compacted into a lightweight and easily transportable package and deployed ...

Soto Quetti, Lorena

(

2016

)

[Resumo] Este traballo pretende mostrar a evolución demográfica do Concello de Moeche, comparando coa poboación galega. Estudar a estrutura demográfica da poboación e a influencia que esta ten sobre o mercado laboral. O ...

Pérez-Valcárcel, Juan

;

Muñoz-Vidal, Manuel

;

Suárez-Riestra, Félix

;

López-César, Isaac

;

Freire-Tellado, Manuel J.

(

Elsevier

,

2021-10

)

[Abstract] Deployable bar structures are especially useful for emergency buildings. These structures require simplicity and ease of assembly and their performance can be improve by using reciprocal linkage at their bars ...