Estrutura laboral e demográfica de Moeche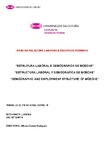 View/Open
Collections
Title
Estrutura laboral e demográfica de Moeche
Alternative Title(s)
Estructura laboral y demográfica de Moeche
Demographic and Employment Structure of Moeche

Author(s)
Directors
Gomis-Rodríguez, Alfonso
Date
2016
Description
Traballo fin de grao (UDC.FCT). Relacións laborais e recursos humanos. Curso 2015/2016
Abstract
[Resumo] Este traballo pretende mostrar a evolución demográfica do Concello de Moeche, comparando coa poboación galega. Estudar a estrutura demográfica da poboación e a influencia que esta ten sobre o mercado laboral. O avellentamento demográfico cada vez é un dos retos máis problemáticos os que ten que facer fronte a sociedade. Primeiro comezamos estudando a estrutura demográfica do concello, como se estrutura por grupos de idade e cal será o seu índice de avellentamento e que quere dicir. Ademais da demografía centrarémonos no estudo da estrutura económica e laboral. O estudo dos distintos sectores e cales teñen máis peso en Moeche, a poboación ocupada, tipos de contratos, os distintos tipos de afiliacións, as pequenas empresas coas que conta este pequeno concello. Tamén é importante coñecer cales son as ocupacións máis dinámicas e cales os postos preferidos desta poboación. En definitiva estudar o caso dun pequeno núcleo rural que sofre as desvantaxes de ser un pequeno concello como tantos outros de Galicia.
[Abstract] This work spects to show the demographic evolution of the City council of Moeche, comparing with the Galician population. Study the demographic structure of the population and the influence that this has envelope the labour market. The demographic aging every time is one of the most problematic challenges those that has to do regarding society. First begin studying the demographic structure of the city council, as if it structures by groups of age and which will be his index of aging and that wants to say. In addition to the demography will center in the study of the economic and employment structure. The study of the distinct sectors and which have more weight in Moeche, the worker population, types of contract, the different types of afiliation, the small enterprises with the that explains this small city council. Also it is important know which are the most dynamic occupations and which the places preferred of this population. In definitive study the case of one small rural core that suffers the disadvantages to be a small city council how so many others of Galicia.
Keywords
Galicia
Avellentamento demográfico
Concello de Moeche
Estrutura demográfica
Despoboamento
Estrutura económica
Estrutura laboral
Demographic aging
Demographic structure
Depopulation
Economic structure
Employment structure.
Rights
Os titulares dos dereitos de propiedade intelectual autorizan a visualización do contido deste traballo a través de Internet, así como a súa reproducción, gravación en soporte informático ou impresión para o seu uso privado e/ou con fins de estudo e de investigación. En nengún caso se permite o uso lucrativo deste documento. Estos dereitos afectan tanto ó resumo do traballo como o seu contido Los titulares de los derechos de propiedad intelectual autorizan la visualización del contenido de este trabajo a través de Internet, así como su repoducción, grabación en soporte informático o impresión para su uso privado o con fines de investigación. En ningún caso se permite el uso lucrativo de este documento. Estos derechos afectan tanto al resumen del trabajo como a su contenido